Bandi Chhor Divas 2022 Date
Bandi Chhor Divas is to be celebrated on the day of Diwali 2022 Dated 24th October 2022, Monday accordingly Bikrami Samvat 8th Katak 2079, 8th Katak Nanakshahi Samvat 554.
| | |
| --- | --- |
| Bandi Chhor Divas Date 2022 | 24th October 2022 |
| Day | Monday, Kartik Vadi 14th |
| Nanakshahi Date | 8th Katak 554 |
Every year, in October or November, most Indians come together to celebrate Diwali. The dates vary from year to year as Diwali falls on the fifteenth day of the month of Kartika in the Hindu calendar. Celebrated on Amavasya, the darkest night of the month. Originally a harvest celebration, It has evolved into the biggest and the brightest of all Indian festivals. For Sikhs, Diwali marks the release of their sixth guru, Guru Hargobind, from prison and is known as Bandi Chhor Divas. It comes just 14 days ahead of Guru Nanak Dev Ji's Parkash Gurpurab.
History of Bandi Chhor Divas
The festival of Diwali is also celebrated by Sikhs. The Sikhs believe in one god and do not worship the Hindu gods. Their religious teachers are holy men called gurus. Sikhs celebrate Diwali because of events that took place during the life of the 6th Sikh Guru, Hargobind Sahib.
The Muslim emperor, Jahangir, who ruled India from 1605-27, did not like the Sikhs or the Hindus. He decided to imprison the 6th Sikh Guru and 52 Hindu kings in his fortress. Many people begged the emperor to release the guru and eventually, the emperor agreed. However, the guru refused to be released unless the Hindu kings were also freed. The emperor reluctantly agreed to this and the guru and the Hindu kings were all freed at Diwali.
The Sikhs were overjoyed when their leader was released and lit candles and lamps on the roofs of houses to guide him home to Amritsar in Punjab. The Guru's mother was so pleased to see him, she ordered sweets and food to be given out to everybody. Sikh Diwali celebrations recall these events. Sikh Diwali is a three-day festival. The place for Sikhs to be during Diwali is the Golden Temple at Amritsar, which is lit with tiny rows of lights, and candles float in the lake. Sikhs who are unable to go to Amritsar at Diwali will have a model of the temple in their home, which is surrounded by candles.
To read the complete history of Bandi Chhor Divas in Punjabi Click here. Also, you can download PDF Booklet we've published on Bandi Chhor Story. Also, we've created many Bandi Chhor Divas and Diwali 2022 wishing images and quotes written in Punjabi, English, and Hindi. You can download all of them absolutely free from the buttons given below each image in High Resolution.
Significance of Bandi Chhor Day
While Vaisakhi is a big day in the Sikh calendar and is celebrated all over the world because of its association with the founding of the Khalsa Panth, the celebration of Diwali is mainly confined to Harmandir Sahib, Amritsar.
The 6th Guru was both a saint and a soldier. He encouraged his followers to learn military skills such as swordsmanship to defend themselves against persecution. Before few days ahead of Diwali Jahangir, the Mughal emperor, released Guru Hargobind Sahib Ji, the sixth Guru, from Prison after five years of incarceration for refusing to renounce his faith. Guru Hargobind had refused an earlier release until fifty-two Hindu princes imprisoned with him were also set free.
Guru Hargobind is known as Bandi Chhor, liberator, for freeing the princes of their chains of captivity. We remember how Guru Hargobind Sahib Ji showed Sikhs that when all peaceful efforts fail, they need to fight to protect what they believe in. This day reminds us that we should not leave anyone in trouble and run away from there alone. Guru Sahib was Ajatashatru – he had no enemy. No personal or political interests of Gurudev were associated with those 52 kings, despite this, he freed all the kings from the captive house.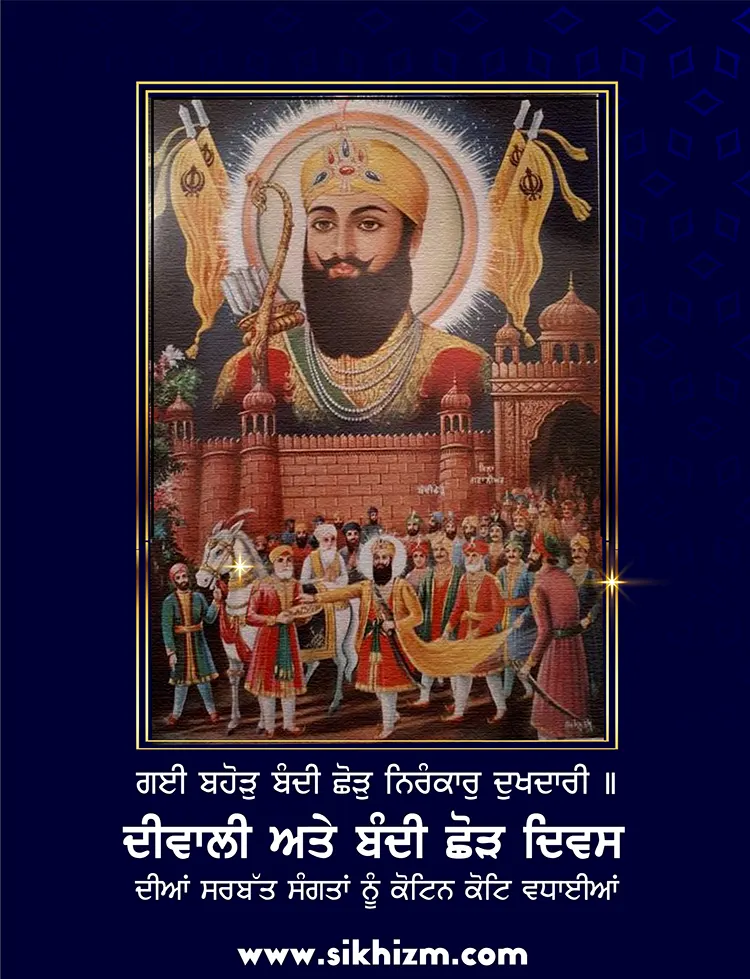 'Bandhi Chhor Divas' also reminds us of the restlessness of Sikhs when they were distressed and woeful without the darshan of Guru Sahib. It marks the affection of a Sikh towards his Guru. Hearing the recitation of Sri Guru Granth Sahib on the throne, every Sikh still enjoys the company of Guru Sahibans.
Bandi Chhor Divas and Bhai Mani Singh
In October 1734 CE, just before Diwali, Bhai Mani Singh applied to Governor for permission for Sikhs to hold a fair at Amritsar on Bandi Chhor day for a tribute of 5000 Rupees. Permission was granted but the real object of the Government was to destroy the Sikhs en masse. Bhai Mani Singh had sent messages all over Punjab inviting Sikhs to collect at Harmandir Sahib. When, however, he sensed the nefarious design of the Government, he canceled the meeting and asked the Sikhs not to come to Amritsar on Bandi Chhor Day. In return, he was later arrested and Qazi pronounced the judgment that he was to be cut to pieces limb by limb. So this story tells, Bandi Chhor Divas was an Important day at that time also.
In popular Sikh Traditions, It is said that when Guru Hargobind Sahib Ji was prisoned in Gwalior Fort, he refused his freedom unless the other prisoners were freed along with him. This was done using the wit of Gurudev and to mark the event, there is a Gurudwara called Bandi Chhor in Gwalior Fort. This occasion is still celebrated as Bandi Chhor Divas on every Diwali at the Golden Temple.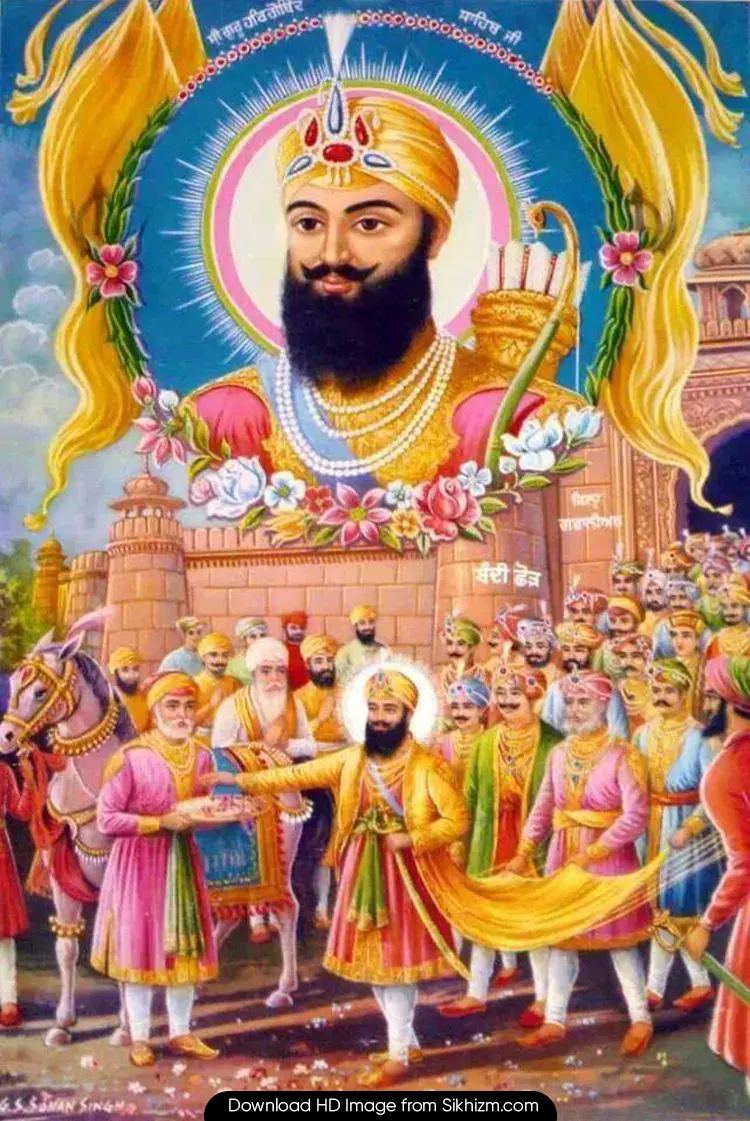 बंदीछोड़ दिवस उस दिन की स्मृति में मनाया जाता है जब सिखों के छठे गुरु हरगोबिन्द साहिब ग्वालियर किले से आजाद होकर अमृतसर वापिस आए थे। इसी दिन भगवान राम 14 वर्ष का वनवास काट कर अयोध्या वापिस आए थे जो प्राचीन भारतीय परंपरा अनुसार सदियों से मनाया जाता आ रहा है।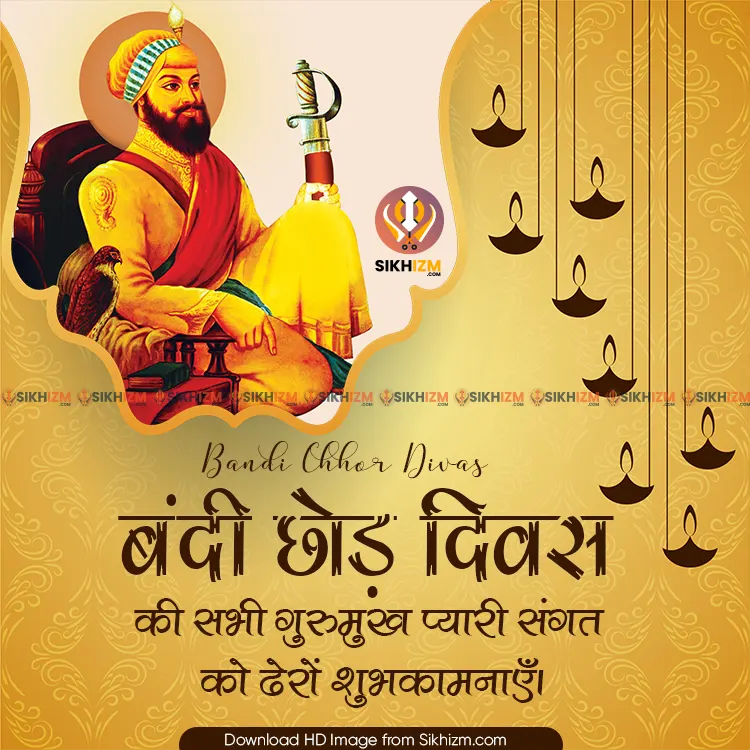 बंदी छोड़ दिवस व दिवाली की सभी गुरमुख प्यारी संगत को ढेरों शुभकामनाएँ। गुरु हरिगोबिंद पतिशाह आपके जीवन को सुख, समृद्धि व खुशियों से भरें।
ਦੀਵਾਲੀ ਅਤੇ ਬੰਦੀ ਛੋੜ ਦਿਹਾੜੇ ਦੀਆਂ ਸਰਬੱਤ ਸੰਗਤਾਂ ਨੂੰ ਲੱਖ ਲੱਖ ਵਧਾਈ। ਸਤਿਗੁਰ ਸੱਚੇ ਪਾਤਿਸ਼ਾਹ ਆਪ ਸਭ ਦੇ ਜੀਵਨ ਵਿੱਚੋਂ ਅਗਿਆਨ ਦਾ ਹਨੇਰਾ ਦੂਰ ਕਰਕੇ ਗਿਆਨ ਰੂਪੀ ਚਾਨਣ ਦਾ ਪਸਾਰਾ ਕਰਨ।
How is Sikh Diwali Celebrated at Amritsar?
The Golden Temple at Amritsar is the center of Sikh worship. The 6th Guru built a fortress around it so that it could be easily defended. At Diwali, Sikhs gather to worship at the Golden Temple, or a local Sikh temple, which is called a gurdwara. Everybody brings gifts of sweets, which are shared out. All the worshippers light a candle and sing hymns about how the 6th Guru fought for religious freedom, justice, and equality for all. Every worshipper is always given free food in the community kitchens.
Pilgrims take a dip in the sacred tank around the Golden Temple early in the morning. They make offerings of money, grain, milk, and other foods for the langar, the free vegetarian meal that thousands eat every day. At night, people light clay lamps in the tank. The climax of the day at the temple is a grand fireworks display.
Happy Diwali & Bandi Chhor Divas 2022
May Akaal Purakh illuminate your life with endless joy, prosperity, health, and wealth forever. Wishing you and your family a very happy Bandi Chhor Divas and Diwali.
Diwali & Bandi Chhor Day Quotes
Guru Arjan Dev Ji on Ang 624 of Sri Guru Granth Sahib under Raga Sorath describes Lord Almighty as the Destroyer of all our sufferings & the savior from all our worldly bondage!
ਗਈ ਬਹੋੜੁ ਬੰਦੀ ਛੋੜੁ ਨਿਰੰਕਾਰੁ ਦੁਖਦਾਰੀ ॥
ਕਰਮੁ ਨ ਜਾਣਾ ਧਰਮੁ ਨ ਜਾਣਾ ਲੋਭੀ ਮਾਇਆਧਾਰੀ ॥
Read the complete Lyrics of Gayi Bahor Bandi Chhor.
Diwali Di Raat Divey Balian WhatsApp Status Download
In Vaaran Bhai Gurdas Vaar 19 Pauri 6, Diwali is mentioned as:
ਦੀਵਾਲੀ ਦੀ ਰਾਤਿ ਦੀਵੇ ਬਾਲੀਅਨਿ ॥
ਤਾਰੇ ਜਾਤਿ ਸਨਾਤਿ ਅੰਬਰਿ ਭਾਲੀਅਨਿ ॥
ਫੁਲਾਂ ਦੀ ਬਾਗਾਤਿ ਚੁਣਿ ਚੁਣਿ ਚਾਲੀਅਨਿ ॥
ਤੀਰਥਿ ਜਾਤੀ ਜਾਤਿ ਨੈਣ ਨਿਹਾਲੀਅਨਿ ॥
ਹਰਿਚੰਦਉਰੀ ਝਾਤਿ ਵਸਾਇ ਉਚਾਲੀਅਨਿ ॥
ਗੁਰਮੁਖਿ ਸੁਖ ਫਲ ਦਾਤਿ ਸਬਦਿ ਸਮ੍ਹਾਲੀਅਨਿ ॥੬॥
Read Translations of Diwali Di Raat Divey Baliyan in Punjabi, Hindi, and English.
Bhai Gurdas Ji has praised Satguru with many similes including "Bandi Chhor" – "giver of freedom from bondages" in Vaar 26 Pauri 20 as:
ਸਤਿਗੁਰ ਪਾਰਸਿ ਪਰਸਿਐ ਕੰਚਨੁ ਕਰੈ ਮਨੂਰ ਮਲੀਣਾ।
ਸਤਿਗੁਰ ਬਾਵਨੁ ਚੰਦਨੋ ਵਾਸੁ ਸੁਵਾਸੁ ਕਰੈ ਲਾਖੀਣਾ।
ਸਤਿਗੁਰ ਪੂਰਾ ਪਾਰਿਜਾਤੁ ਸਿੰਮਲੁ ਸਫਲੁ ਕਰੈ ਸੰਗਿ ਲੀਣਾ।
ਮਾਨ ਸਰੋਵਰੁ ਸਤਿਗੁਰੂ ਕਾਗਹੁ ਹੰਸ ਜਲਹੁ ਦੁਧੁ ਪੀਣਾ।
ਗੁਰ ਤੀਰਥੁ ਦਰੀਆਉ ਹੈ ਪਸੂ ਪਰੇਤ ਕਰੈ ਪਰਬੀਣਾ।
ਸਤਿਗੁਰੁ ਬੰਦੀ ਛੋੜੁ ਹੈ ਜੀਵਣ ਮੁਕਤਿ ਕਰੈ ਓਡੀਣਾ।
ਗੁਰਮੁਖਿ ਮਨ ਅਪਤੀਜੁ ਪਤੀਣਾ ॥੨੦॥
Read the Translation of 'Satgur Bandi Chhor Hai, Jeevan Mukat Kare Odina' in multiple languages.
The Review
Happy Bandi Chhor Divas 2022
Bandi Chhod Divas is equivalent to Diwali for Sikhs. Like Lord Rama returned to Ayodhya on Diwali, Guru Hargobind Sahib Ji returned to Amritsar after his release from Gwalior Fort on this Day.
Review Breakdown
Creative Design

History Explained

Color Choice

Precise Writing

Ease of Download