10 Sikh Gurus
10 Gurus of Sikh Faith: Sikhism is a devout religion founded by Guru Nanak Dev in the Punjab region of South Asia in the 15th century. It is the fifth-largest religion in the world in terms of the number of believers. The philosophy of Sikhism is called Gurmat which is based on the belief in God which is represented by an Oankaar (meaning one God). Sikhs do not believe in heaven or hell.
Before his death, Guru Nanak appointed one of his Sikhs as the second Guru and entrusted him with the task of guiding the Sikh community. This tradition continued till the Tenth Guru, Gobind Singh (1666-1708) who established the Khalsa on Baisakhi 1699 AD and gave a distinct identity to the Sikhs; He baptized five Sikhs and named them Panj Pyare, after which the Guru himself baptized them at his request. Guru Gobind Singh ended the tradition of appointing human successor by establishing Guru Granth Sahib on the highest seat and living Guru before ascending the Sach Khand.
A western thinker offers a befitting epithet each to the 10 Gurus as a mark of their distinct individualities considered in totality. The qualities applied to the Gurus may not be incorrect but they do not suggest any comprehensive representation of the Guru under reference. However, it would make interesting reading to note how each Guru is viewed :
Guru Nanak (humility);
Guru Angad Dev (Obedience);
Guru Amar Das (Equality);
Guru Ram Das (Service);
Guru Arjan Dev (Self-Sacrifice);
Guru Hargobind (Justice);
Guru Har Rai (Mercy);
Guru Har Krishan (Purity);
Guru Tegh Bahadur (Calmness);
Guru Gobind Singh (Royal Courage).
Sikh Guru Names in Punjabi
| | |
| --- | --- |
| 1 | ਗੁਰੂ ਨਾਨਕ ਸਾਹਿਬ ਜੀ |
| 2 | ਗੁਰੂ ਅੰਗਦ ਸਾਹਿਬ ਜੀ |
| 3 | ਗੁਰੂ ਅਮਰਦਾਸ ਜੀ |
| 4 | ਗੁਰੂ ਰਾਮਦਾਸ ਜੀ |
| 5 | ਗੁਰੂ ਅਰਜਨ ਜੀ |
| 6 | ਗੁਰੂ ਹਰਗੋਬਿੰਦ ਸਾਹਿਬ ਜੀ |
| 7 | ਗੁਰੂ ਹਰਿ ਰਾਇ ਜੀ |
| 8 | ਗੁਰੂ ਹਰਿਕ੍ਰਿਸ਼ਣ ਸਾਹਿਬ ਜੀ |
| 9 | ਗੁਰੂ ਤੇਗ਼ ਬਹਾਦੁਰ ਜੀ |
| 10 | ਗੁਰੂ ਗੋਬਿੰਦ ਸਿੰਘ ਜੀ |
10 Sikh Gurus – Their Birth (Parkash) and Ascension
In tradition, the words Birth, and Death are less likely to be used for Sikh Gurus. A Sikh firmly believes that his Guru is never born, and never dies. So we use the words Parkash and Joti Jot for Birth and Death of Physical Embodiment of Gurus. Starting from Sri Guru Nanak Dev Ji in 1469, Guruship remained till the ascension of Sri Guru Gobind Singh Ji in 1708. We have Prepared a List for 10 Gurus – Their Birth, Birth Place, Ascension – Date & Place of Joti Jot.
Ten Sikh Gurus – Their Families
List of 10 Gurus – Their Real Names before Guruship, Parents Detail, Mahal (Spouse Name), and Detail of Children. Gurus have been married once mostly except Guru Hargobind Sahib Ji, Guru Har Rai Ji, and Guru Gobind Singh Ji. All Added from First Nanak to 10th Nanak, Gurughar bore 27 Children. 6 of them were given Gurgaddi, rest has their own places in history.
Sikh Gurus and Their Part in Sri Guru Granth Sahib
It is not appropriate to call Sri Guru Granth Sahib as Holy Book of Sikhs as It has been established as the living Guru of Sikhs. Sri Guru Granth Sahib was first compiled as Pothi Sahib by Sri Guru Arjan Dev Ji with the inclusion of Gurbani created by 5 Gurus. Baani of 9th Guru and 1 Shloka of Sri Guru Gobind Singh Ji were later added while re-compiling the Aadi Granth as Damdami Bir by the 10th Master himself. Below is a List of Gurus with Detail of the Number of Shabads or Shlokas written by them that are included in Sri Guru Granth Sahib.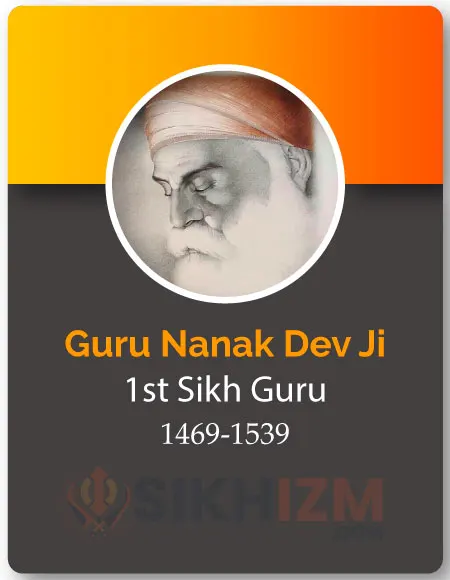 1. Guru Nanak Dev Ji
Sri Guru Nanak Dev Ji founded the Sikh faith. He proclaimed the divine word for the indivisible nature of god 'Ik Oankar' and gave the world lofty "Mool Mantar"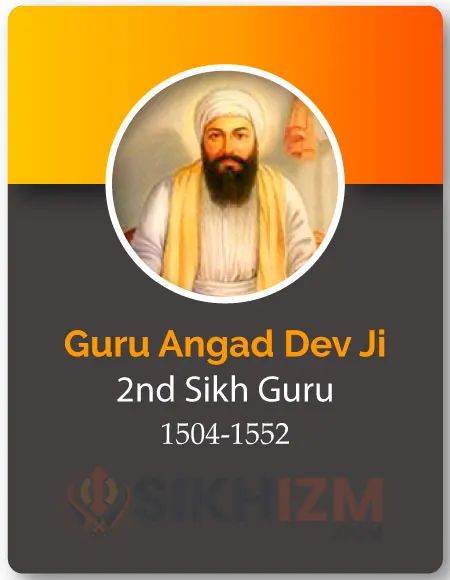 2. Guru Angad Dev Ji
Sri Guru Angad Dev Ji created and Introduced the Gurmukhi Script. He started the tradition of "Mall Akhada" and expanded the institution of Langar.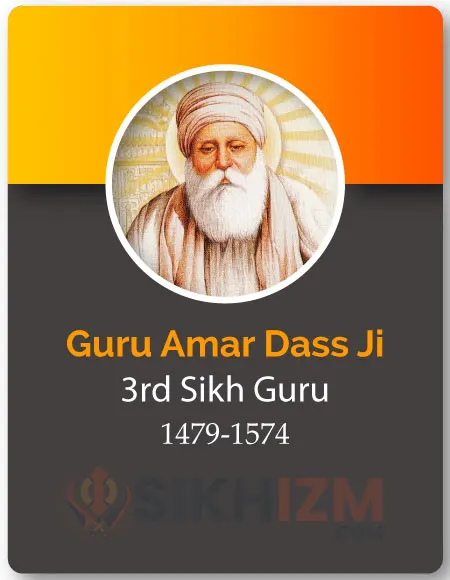 3. Guru Amar Das Ji
He took up cudgels against the restrictions placed by the caste system and the custom of purdah. He introduced new customs for birth and death ceremonies.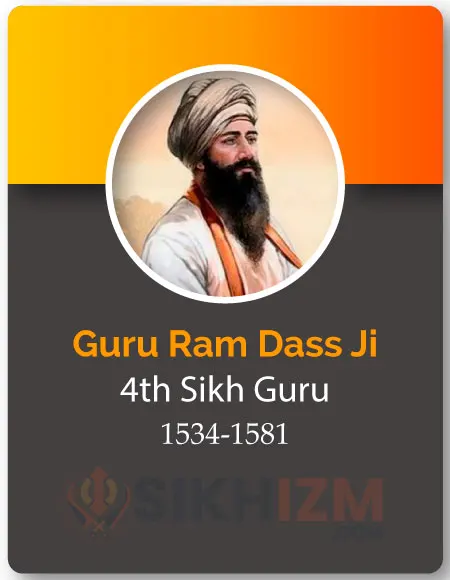 4. Guru Ram Das Ji
Guru Ka Chak or Ram Dass Pura which later became the focal point for the Sikh Tradition with the name Amritsar Sahib was founded by the Fourth Master.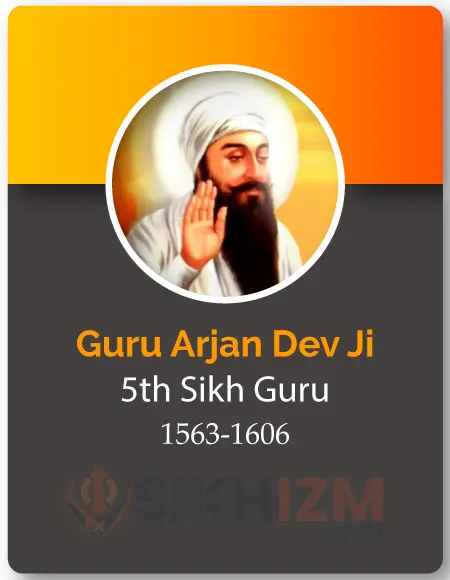 5. Guru Arjan Dev Ji
Guru Arjan compiled the Adi Granth or Pothi Sahib, completed the construction of Harmandir Sahib, and became the first martyr in the Sikh Tradition.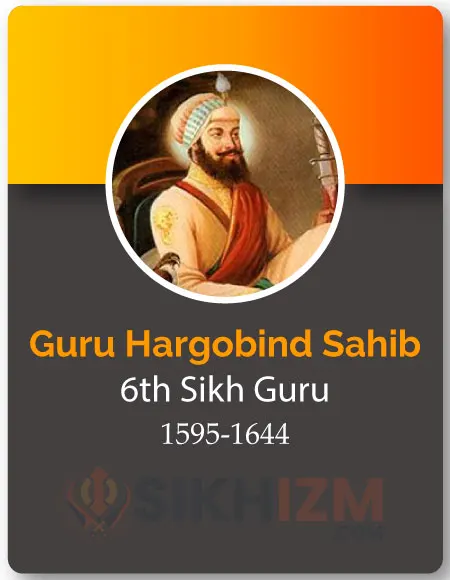 6. Guru Hargobind Sahib Ji
He was the first Saint Soldier among Sikh Gurus. Took up 2 swords of Miri and Piri, constructed Akal Takht – a symbolic of Raj Satta and Throne of the Eternal God.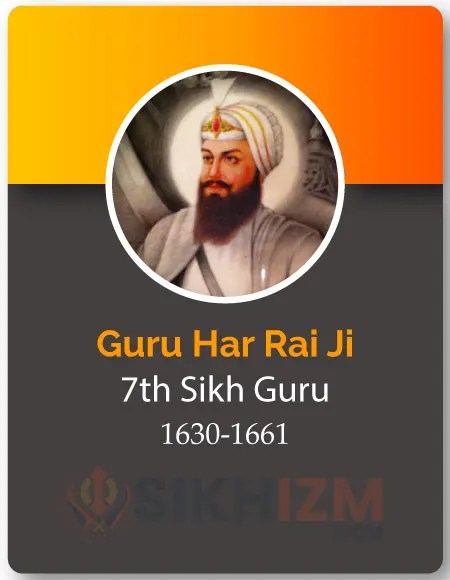 7. Guru Har Rai Ji
Devoted himself to further spreading the teachings of Guru Nanak, and excommunicated his son Ram Rai from Sikhi for manipulating a word of Gurbani in from of Aurangzeb.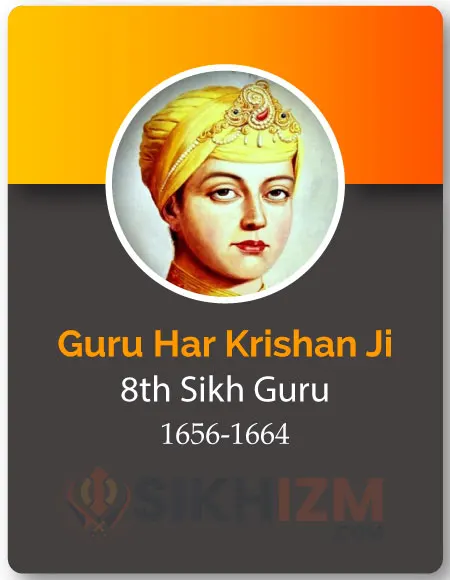 8. Guru Harkrishan Ji
Bala Preetam Guru Ji enabled a mute person to translate the Gita, and left his body at a very young age while healing the people of Delhi during the Chickenpox pandemic.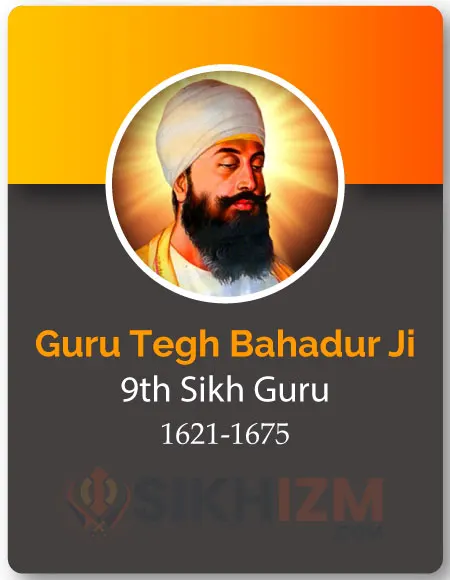 9. Guru Tegh Bahadur Ji
Guru Ji established Anandpur Sahib – the Haven of Bliss. He made supreme sacrifice to protect the Hindus, and accepted execution instead of converting to Islam.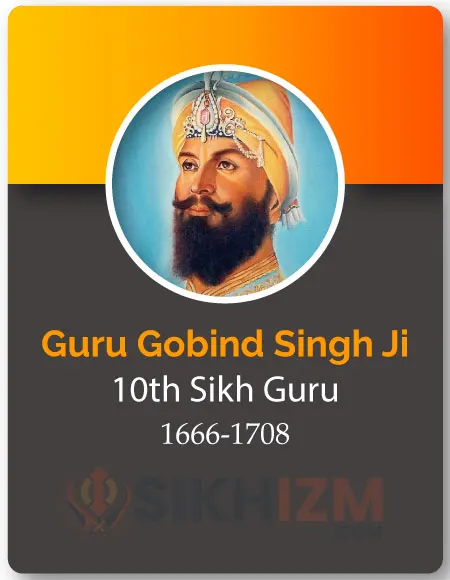 10. Guru Gobind Singh Ji
Guru Gobind Singh re-created Adi Granth and passed Guruship to Guru Granth Sahib, Established Khalsa Panth, and fought many wars, Sacrificed his 4 children to the faith.
Ten Sikh Gurus – There Birth & Date of Ascension
Patshahi
Name
Birth
Birth Place
Joti Jot
Joti Jot Place
First
Guru Nanak Dev
15-04-1469
Rai Bhoi Di Talwandi, Delhi Sultanat
22-09-1539
Kartarpur, Mughal Empire
Second
Guru Angad Dev
31-03-1504
Matte Di Sarai, Muktsar, Panjab
29-03-1552
Khadur Sahib, Tarn Taran
Third
Guru Amar Dass
05-05-1479
Basarke, Punjab
01-09-1574
Goindwal Sahib, Punjab
Fourth
Guru Ram Dass
24-09-1534
Chuna Mandi Lahore
01-09-1581
Goindwal Sahib, Punjab
Fifth
Guru Arjan Dev
15-04-1563
Goindwal, Taran Taran
30-05-1606
Lahore, Punjab
Sixth
Guru Hargobind Sahib
19-06-1595
Guru Ki Wadali, Amritsar
28-02-1644
Kiratpur Sahib, Punjab
Seventh
Guru Har Rai
16-01-1630
Kiratpur Sahib
06-10-1661
Kiratpur Sahib, Punjab
Eighth
Guru Har Krishan
07-07-1656
Kiratpur Sahib
30-03-1664
Delhi
Ninth
Guru Tegh Bahadur
21-04-1621
Amritsar Sahib
24-11-1675
Delhi
Tenth
Guru Gobind Singh
22-12-1666
Patna Sahib, Bihar
07-10-1708
Nanded, Maharashtra
Family Details of 10 Sikh Gurus
Guru
Real Name
Father Name
Mother Name
Spouse
Children
1
Nanak
Kalyan Dass
Mata Tripta Devi
Mata Sulakhni
Baba Sri Chand, Baba Lakhmi Dass
2
Lehna
Pheru Mal
Mata Ramo
Mata Khivi
Baba Dasu, Baba Dattu, Bibi Amro, Bibi Anokhi
3
Amar Das
Tej Bhan
Mata Lachhmi
Mata Mansa Devi
Bhai Mohan, Bhai Mohri, Bibi Dani, Bibi Bhani
4
Jetha Mal
Hari Das
Mata Daya
Mata Bhani
Baba Prithi Chand, Baba Mahan Dev, Guru Arjan Dev
5
Arjan Dev
Guru Ram Dass
Mata Bhani
Mata Ganga
Guru Hargobind Sahib
6
Hargobind
Guru Arjan Dev
Mata Ganga
Mata Nanaki
Baba Gurdita, Baba Suraj Mal, Baba Ani Rai, Baba Atal Rai, Guru Tegh Bahadur, Bibi Veero
7
Har Rai
Baba Gurditta
Mata Nihal Kaur
Mata Krishan Devi
Baba Ram Rai, Guru Harkrishan
8
Kishan Das
Guru Har Rai
Mata Krishan
None
None
9
Tyag Mal
Guru Hargobind Sahib
Mata Nanaki
Mata Gujri
Guru Gobind Singh
10
Gobind Rai
Guru Tegh Bahadur
Mata Gujri
Mata Jito, Mata Sundari, Mata Sahib Devan
Ajit Singh, Jujhar Singh, Zorawar Singh, Fateh Singh, Entire Khalsa Panth
Gurbani Creation by 10 Gurus
Guru
Guruship
Gurbani Creation
Guru Nanak Dev
1469-1539
974 Shabads in 19 Ragas, Gurbani Includes Japji, Sidh Gohst, Sohilaa, Dakhni Onkar, Asa di Var, Patti, Bara Mah
Guru Angad Dev
1539-1552
63 Shlokas
Guru Amar Dass
1552–1574
869 Shabads in 17 Ragas [Anand, Patti, 4 Vaars in Goojri Soohi Ramkali and Maaru Raga]
Guru Ram Dass
1574-1581
638 Shabads in 30 Ragaas [8 Vaars Siri, Gaurhi, Bihagda, Vadhans, Sorath, Bilawal, Sarang, Kanra Raga + Ghodian, Karhale, Banjara, and 4 Laavan]
Guru Arjan Dev
1581-1606
2312 Shabads in 30 Ragas [Sukhmani, Barah Maah, 52 Akhri, Gunvanti, 6 Vaars in Gaurhi, Goojri, Jaitsari, Ramkali, Maaru & Basant]
Guru Hargobind Sahib
1606-1644
Guru Har Rai
1644–1661
Guru Har Krishan
1661-1664
Guru Tegh Bahadur
1664-1675
116 Shabad (15 Ragas) including Shloks of Bhog.
Guru Gobind Singh
1675-1708
1 Shabad in GGS, Dasam Granth Sahib [Akaal Ustat, Jaap Sahib, Chandi Di Vaar, Bachittar Natak, Chaupai, Tav-prasad Svaiyye]
Sikh Gurus and Mughal Emperors
Below is the list of Sikh Gurus alongside the contemporary throned King at the high seat of Delhi.
| Gurgaddi Sr | Name of Guru | Emperor of Delhi |
| --- | --- | --- |
| 1 | Guru Nanak Dev Ji | Behlol Lodhi, Sikander Lodhi, Babar |
| 2 | Guru Angad Dev Ji | Humayun, Shershah Suri |
| 3 | Guru Amardas Ji | Akbar |
| 4 | Guru Ramdas Ji | Akbar |
| 5 | Guru Arjan Dev Ji | Jahangir |
| 6 | Guru Hargobind Sahib Ji | Jahangir, Sheharyar, Shahjahan |
| 7 | Guru Har Rai Ji | Shahjahan, Aurangzeb |
| 8 | Guru Harkrishan Ji | Aurangzeb |
| 9 | Guru Tegh Bahadur Ji | Aurangzeb |
| 10 | Guru Gobind Singh Ji | Aurangzeb, Bahadur Shah |
The Review
10 Gurus of Sikh Religion
Ten Sikh Gurus from Guru Nanak to Gobind Singh - their Date of Birth, Guruship and Ascension, Parents - Spouse - Children Details along with their contribution to Guru Granth Sahib.
Review Breakdown
Detail Links

Use of Images

Tabular Data

Article Length

Engaging Info