Miri Piri Day 2023
How Miri Piri Diwas Started? Both swords of the 'Meeri and Peeri" [ Miri – Piri ] are associated with the sixth Guru Hargobind Sahib. After the martyrdom of Guru Arjan Sahib Ji, when the time of Guru Hargobind Ji came to be throned, he decided to hold the two swords symbolic of temporal and spiritual power each. And the day this happened was June 12, 1606, Its anniversary is celebrated as Miri Piri Diwas or Meeri Peeri Gurpurab every year.
| Gurpurab | Date CE | Sikh Calendar |
| --- | --- | --- |
| Miri Piri Diwas | July 28, 2023 | Harh 14, 555 Nanakshahi |
Work list of "Piri 'aspect
The spiritual and ideological areas include justice, truth, ethics, knowledge, knowledge, etc.
Organizational agenda, under which Gurdwara Management, Slabat Khalsa, Method of Gurmat, Vidhan, Hukamnamas, The character of Sikh institutions, Khalsa Republic and Republic, Akal Takht Organization Assemble, and other particular institutional subjects.
The intellectual area includes Akal Takht's Sikh scholars, world knowledge, knowledge systems, cognitive institutions, etc.
Work list of Miri's aspect
Sikh political ideology, the country's political ideology, its Sikh politics, Indian constitution, Sikh constitution, Sikh property struggle, etc.
International Agenda, World Religion and Akal Takht, International Correctional Tas Guess United Nations, Human Rights, and Akal Throne.
Economic Agenda Sikh Economy, Effects of National, and International Economy.

Swords of Miri Piri
Poem 'ਮੀਰੀ-ਪੀਰੀ ਦੀਆਂ ਤਲਵਾਰਾਂ' is written by renowned Poet Karmjit Singh Gathwala
ਮੀਰੀ-ਪੀਰੀ ਦੀਆਂ ਤਲਵਾਰਾਂ
ਮੀਰੀ-ਪੀਰੀ ਦੀਆਂ ਤਲਵਾਰਾਂ ਸਤਿਗੁਰ ਪਾ ਲਈਆਂ
ਧਾਰਾਂ ਸ਼ਾਂਤ ਤੇ ਬੀਰ ਰਸ ਦੀਆਂ ਦਿਲੀਂ ਵਸਾ ਲਈਆਂ
ਤੱਤੀ ਤਵੀ ਦਾ ਸੇਕ ਫੈਲਿਆ ਚਾਰ ਚੁਫੇਰੇ ਸੀ
ਜਬਰ-ਜ਼ੁਲਮ ਨੇ ਸੱਚ-ਧਰਮ ਨੂੰ ਪਾ ਲਏ ਘੇਰੇ ਸੀ
ਮਜ਼ਲੂਮਾਂ ਦੀਆਂ ਸਾਰਾਂ ਕਿਸੇ ਨੇ ਆ ਕੇ ਨਾ ਲਈਆਂ.. [Read More]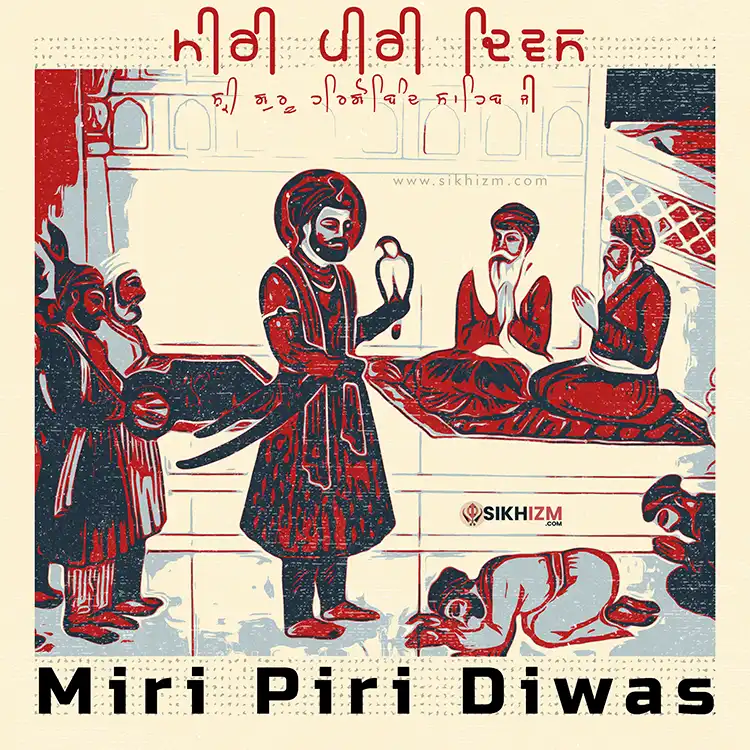 Miri Piri Poem by Baba Ferozdin Sharaf
ਹਰ ਨੂੰ ਵੇਖੇ ਇੱਕੋ ਅੱਖੇ ।
ਮੁਕਤੀ ਸ਼ਕਤੀ ਦੋਵੇਂ ਰੱਖੇ ।
ਦੱਸੇ ਜਿਹੜਾ ਜ਼ਿੰਦਾ ਰਹਿਣਾ ।
ਦੁਨੀਆਂ ਦੇ ਵਿਚ ਸਾਵੇਂ ਬਹਿਣਾ ।
ਭਗਤੀ ਦੇ ਵਿਚ ਜਿਊਂਦੇ ਮਰਨਾ ।
ਦਿਲ ਮੋਇਆਂ ਦੇ ਜ਼ਿੰਦਾ ਕਰਨਾ ।
ਗੁਰਿਆਈ ਦੀ ਸ਼ਾਨ ਵਧਾਵੇ ।
ਦੋਵੇਂ ਵਿੱਦਯਾ ਆਣ ਪੜ੍ਹਾਵੇ ।
ਵਿੱਚ ਫਕੀਰਾਂ ਗੁਰੂ ਕਹਾਵੇ ।
ਬਾਦਸ਼ਾਹਾਂ ਦਾ ਤਾਜ ਸੁਹਾਵੇ ।
ਸੋਧੇ ਵਿੰਗੇ ਦੁਨੀਆਂ ਦਾਰਾਂ ।
ਜਿਹੜਾ ਰੱਖੇ ਦੋ ਤਲਵਾਰਾਂ ।
ਭਗਤੀ ਦੀ ਉਹ ਸ਼ਾਨ ਵਖਾਵੇ ।
ਬੰਦੀ ਛੋੜ ਹਮੇਸ਼ ਸਦਾਵੇ ।
ਇਕ ਧਿਰ ਤੇਗ਼ ਅਮੀਰੀ ਰੱਖੇ ।
ਦੂਜੇ ਤੇਗ਼ ਫ਼ਕੀਰੀ ਰੱਖੇ ।
ਇਕ ਧਾਰੋਂ ਤੇ ਅੰਮ੍ਰਤ ਪਿਆਵੇ ।
ਦੂਜੀ ਧਾਰੋਂ ਪਾਰ ਬੁਲਾਵੇ । .. [ Read More ]
Concept of Miri and Piri in Sikhism
The Guru declared that the two swords signified Miri and Piri, (Shakti and Bhakti), deg, and teg. One symbolized temporal power and the other spiritual power; one to smite the oppressor and the other to protect the innocent. Read More
The Review
Miri Piri Diwas 2023 Wishes
Miri Piri is one of the essential traits of Sikhism, on one side Sikhism sets its disciple in a state of Ecstacy, and simultaneously reveals the soldier aspect of Sikh. This idea of Sant-Sipahi is the core of Sikh values.
Review Breakdown
Explained Well

Graphics

Poetry