Baba Banda Singh Bahadur
Banda Singh was known as Lachhman Dev in his childhood. He was born on Kartik Sudi 13th, Samvat 1727, Bikrami, the 27th of October, 1670, at Rajori' in the Punchh district of western Kashmir. His father Ram Dev was an ordinary plowman Rajput of the Bhardwaj clan.
| Name | Birth Date | Martyrdom |
| --- | --- | --- |
| Banda Singh Bahadur | 27th October 1670 | 9 June 1716 |
As is the case with all such persons, who are born in poor circumstances and rise to historical importance in the later years of their lives, nothing is known of his early childhood except that the child Lachhman Dev, true to the traditions of his race, development into a youth of very active habits, full of energy and fond of shooting and hunting.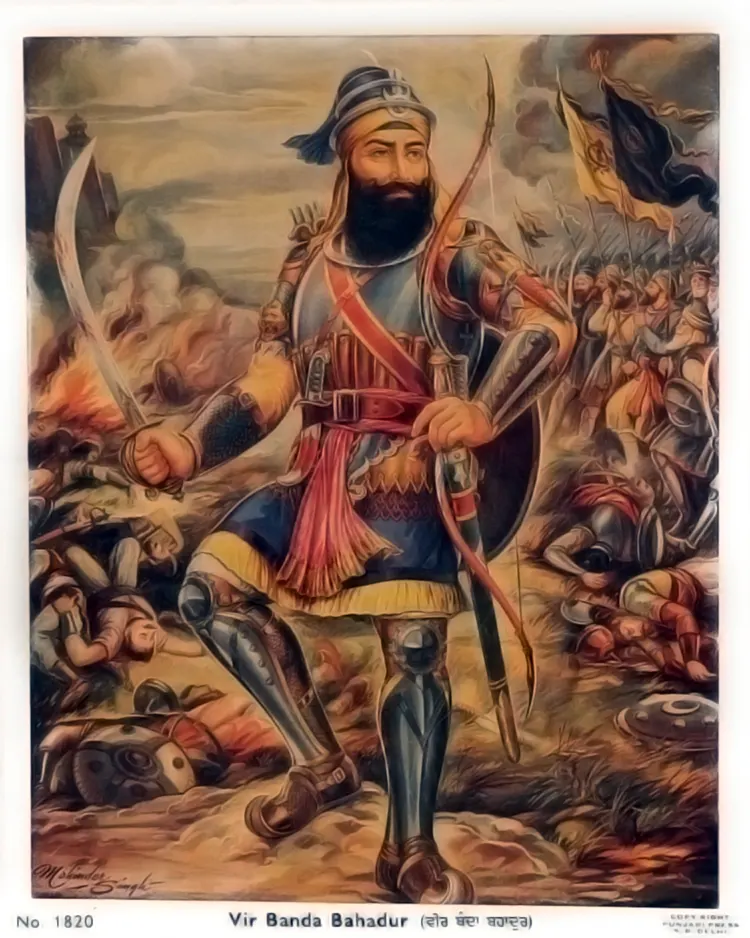 Education, in the ordinary sense of the word, has never been popular in Kashmir. From times immemorial, it has been the exclusive monopoly of the Brahmins. Even in the twentieth century, we seldom hear of any learned person of outstanding merit in Kashmir beyond the Pundits. The birth-place of Lachhman Dev was situated in one of the most backward districts in matters educational.
| | |
| --- | --- |
| Popular Name | Baba Banda Singh Bahadur |
| Birthname | Lachhman Dev |
| Other Names | Madho Das, Gurbaksh Singh |
| Birthdate, Place | 27th October 1670 CE, Rajouri |
| First Guru | Janaki Dass (Initiated into Bairagi Panth) |
| Second Guru | Augharh Nath (Mastered Occult Powers from him) |
| Third Guru | Guru Gobind Singh (Spiritual Master, Initiated into Khalsa at Nanded) |
| Came to Punjab | 1708 CE |
| Battles Fought | Samana, Sadhaura, Sarhind, Ghurani, Malerkotla, Gurdas Nangal |
| Rule Over Punjab | From Panipat to East of Lahore |
| Spouse | Susheel Kaur |
| Children | Ajay Singh |
| Martyrdom | 9th June 1716 CE, Delhi |
It is related that during one of his hunting excursions he became an ascetic under the teachings of a Bairagi Saint Janakidas who named him Madho Das.
He wandered all the way across the Godavari, practiced and gained many siddhis, and ultimately settled himself in Nanded. He was undoubtedly a mine of energy and enthusiasm but was directed in the wrong direction until he met Guru Gobind Singh during his last days.
Conversation with Guru Gobind Singh
On coming under the spiritual influence of the Guru, Madho Das respectfully addressed him. The following dialogue is recorded in the Zikr-i-Guruan wa Ibtida-i-Singhan wa Mazhab-i-Eshan by Ahmad Shah of Batala.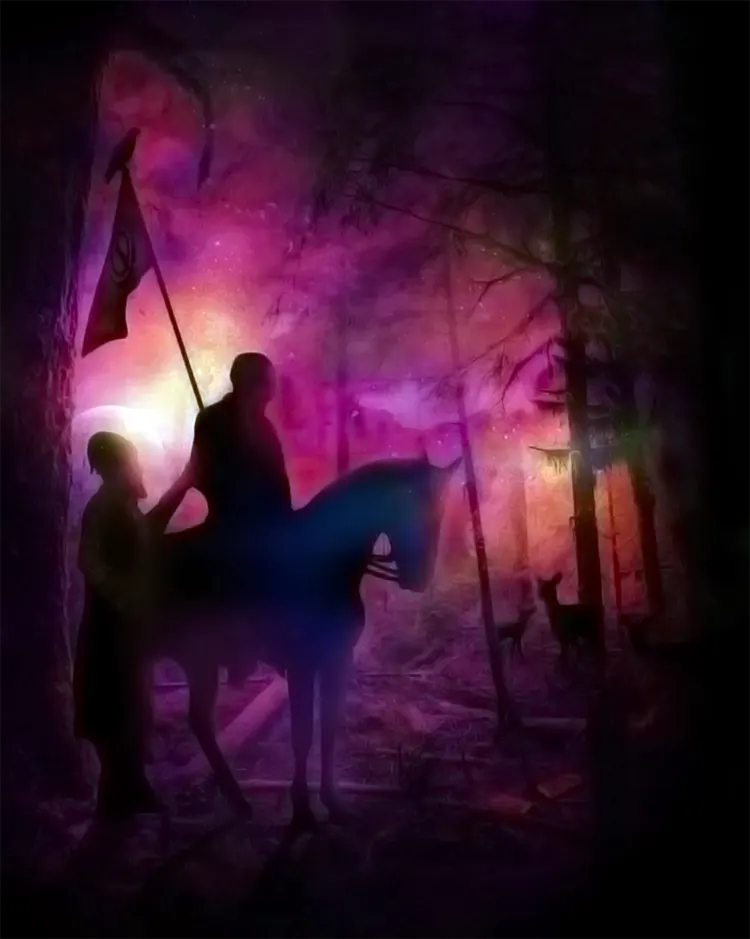 Madho Das: Who are you?
Guru Govind Singh: He whom you know.
Madho Das: What do I know?
Guru Govind Singh: Think it over in your mind.
Madho Das (after a pause): So you are Guru Govind Singh!
Guru Govind Singh: Yes!
Madho Das: What have you come here for?
Guru Govind Singh: I have come so that I may convert you into a disciple of mine.
Madho Das: I submit, my Lord. I am a Banda (a slave) of yours.
After taking Pahul at the hands of Guru Gobind Singh, he was renamed, Banda Singh.
Putting on his consecrated steel-his sword dangling by his side, and his iron bracelet on his arm, and adopting the title of 'Singh', his slumbering energy was resuscitated.
He did not take long to acquaint himself with the early history of Sikhism. He listened to the stories of the martyrdom of Guru Arjan and Guru Tegh Bahadur and many Singhs murdered at the hands of Mughals. Witnessing the story of bricking up alive the younger Sahibzadas drove him into a sort of frenzy.
Banda left for Punjab
Guru Sahib entrust the military command of his people to the charge of Banda Singh Bahadur and gave him his 5 special arrows and the title "Bahadur". In 1707 Banda Singh left for Punjab under the guidance of 5 Pyare Bhai Binod Singh, Kahan Singh, Baj Singh, Daya Singh, and Ram Singh. Guru Sahib handed over a Hukamnama to him, asking the Sikhs of Punjab to join the struggle for freedom.
Attacks on Samana, Sadhaura, and Sirhind
Banda Singh Bahadar first resolved to commence operations by teaching a lesson to the faujdar of Kaithal for the atrocities committed by him and then to attack Samana.
In November 1709, Banda Singh attacked Samana, the native town of Jalal-ud-Din, the executioner of Guru Tegh Bahadar, and of the two executioners - Shashal Beg and Bashal Beg who had volunteered to behead Guru Gobind Singh Ji's two young sons, at Sirhind. Samana was reduced to a mass of smoking ruins.
After the attack of Samana, Banda Singh occupied Ghurham, Thaska, Shahabad, and Mustafabad. The town of Kapuri near Patiala, whose faujdar, Qadam-ud-Din, was notorious for his atrocities on Hindus and Sikhs, was razed to the ground.
Next came the turn of Sadhaura, whose chief, Usman Khan, had not only oppressed the Hindus but had also tortured to death the Muslim saint, Sayyid Buddhu Shah, for having helped Guru Gobind Singh JI in the battle of Bhangani. Baba Banda Singh marched towards Sadhaura to avenge the torture and death of Pir Buddhu Shah as per the injunction of the Guru.
Killer of Sahibzadas Nawab Wazir Khan was killed by Bhai Baj Singh in the battle of Chappar Chiri on 12 May 1710. and on 14 May the city of Sirhind was captured.
Capturing
Baba Banda Singh Bahadur's increasing influence roused the fire of the Mughal Emperor Bahadur Shah. He ordered the mass killing of all the Nanak-Prastan i.e. Sikhs. During the wars, Banda Singh was forced to retreat into the hills. After the death of Bahadurshah, his descendant Farrukhsiyar further accelerated the campaign and re-occupied Sadhaura and Lohgarh.
Banda Bahadur was sieged at the village of Gurdas-Nangal and after 8 long months of gruesome conditions, was captured on December 7th, 1715 alongside 740 other companions. Companions were killed on 100 each day for 7 days. For the next six months, they tortured Baba Banda Singh and tried to search for the treasures looted by Baba Banda Singh from Mughal State at Gurdas-Nangal.
Martyrdom
Baba Banda Singh Bahadar and his remaining companions were taken to the tomb of Khwaja Qutb ud-din Bakhtiyar Kaki, near the Qutab Minar. There he was offered the choice between Islam and death.
Upon his refusal to renounce his faith, his four-year* old son, Ajai Singh, was hacked to pieces before his eyes, and his heart and liver were forcibly put in Baba Ji's mouth. But he displayed heavenly calmness. There was no expression of grief and was unruffled.
He himself was subjected to the harshest torments. His eyes were pulled out and hands and feet chopped off. His flesh was torn with red-hot pincers and finally, his body was cut up limb by limb. This occurred on 9 June 1716.
Achievements of Baba Banda Singh Bahadur
Even in the short time for which Baba Banda Singh ran his administration, he carried out what, up to this day, is recognized as one of the best fiscal reforms. It has had a great influence on the subsequent history of Punjab. He abolished the Zamindari System of the Mughals. In its place; he introduced peasant proprietorship. The Sikhs were mostly from the agricultural classes.
They knew where the shoe pinched. For a long time, they had been groaning under the landlord's tyranny. So the first thing that the Sikhs did was to strike out this evil, root, and branch. The Zamindari System was abolished. The tillers of the soil became its masters. A great and longstanding curse was thus lifted from Punjab.
All the same, Banda Singh left a lasting mark on the character of the Sikhs. He fanned the fire of independence ignited by Guru Gobind Singh. He affected a revolution in the minds of the people. A will was created in the ordinary masses to resist tyranny and to live and die for a common or national cause. The example set by Banda Singh and his companions was to serve as a beacon of light for the people in the darker days to come.
He was the first man to deal a severe blow to the cruel, fanatic Mughal rule in Punjab. He broke the first sod in the conquest of that province by the Sikhs. He virtually succeeded in destroying the Muslim ruling class. Although it was forty years after his death that Lahore, the capital of Punjab, was occupied by the Khalsa, and a regular Sikh rule was declared, yet it was Banda Singh Bahadur who laid the foundation of the Sikh Empire in 1710. He was the founder of Sikh rule.
[Video Courtesy: BBC Hindi]
The story of Baba Banda Singh's Rise and Martyrdom cannot be described on a single webpage. We're uploading a series of books on the life of Baba Banda Singh Bahadur, which you'll be able to download and read from the links given below:
Download Baba Banda Singh Bahadur PDF Books and Images
The Review
Baba Banda Singh Bahadur Biography
Baba Banda Singh Bahadur - Armed with the blessing and authority of Guru Gobind Singh, he assembled a fighting force and led the struggle against the Mughal Empire. A Nice article on the his life journey and martyrdom.
Review Breakdown
Article Research

Graphics

References

Free Books

Tabular Presentation