Guru Angad Dev Ji Parkash Gurpurab
As we celebrate the Guru Angad Dev Ji Parkash Purab 2023, we honor the 519th Birth Anniversary of the second Sikh Guru. Let us invoke the blessings of Guru Sahib and feel his divine presence on this sacred day. May his powerful words enlighten our hearts and guide us on the path of righteousness. Let's pay homage to his teachings that continue to inspire us to this day.
Guru Angad Dev was born on the 31st March 1504 A.D., in the village Mattedi-Sarai. His father's name was Bhai Pheru Mall. He was named 'Lehna' by his parents. His father was well-educated and was the treasurer of the governor of Ferozepur at that time. So Bhai Pheru Mall gave Sri Lehna a good education. He was married to Bibi Kheivi in the village of Khadur when he was fifteen.
Guru Angad was 35 at the time of his Guruship which he continued for 13 years. His chief contributions were his self-surrender to Guru Nanak and the Lord, humility, and service to humanity. He introduced Gurmukhi Script for writing Punjabi and got the writings of His Master written in this script. Guru Sahib was a married householder and had two sons and two daughters. He took a keen interest in sports and encouraged wrestling for the younger ones. He appointed His devout disciple, Amar Das as his successor, in preference to his sons, as they were found wanting in severe tests and trials.
Guru Angad Dev Ji Gurbani Quote
ਏਹ ਕਿਨੇਹੀ ਆਸਕੀ ਦੂਜੈ ਲਗੈ ਜਾਇ ॥
ਨਾਨਕ ਆਸਕੁ ਕਾਂਢੀਐ ਸਦ ਹੀ ਰਹੈ ਸਮਾਇ ॥
ਚੰਗੈ ਚੰਗਾ ਕਰਿ ਮੰਨੇ ਮੰਦੈ ਮੰਦਾ ਹੋਇ ॥
ਆਸਕੁ ਏਹੁ ਨ ਆਖੀਐ ਜਿ ਲੇਖੈ ਵਰਤੈ ਸੋਇ ॥

Poetry on Guru Angad Dev Ji Parkash Purab 2023
Babu Firozdin Sharaf Ji wrote a beautiful poem 'ਪ੍ਰੇਮ ਟੀਸੀ' in the love of Guru Angad Dev Ji.
ਸੱਚੇ ਪਾਕ ਪਵਿੱਤਰ ਅੰਗਦ,
ਜਯੋਂ ਅੰਮ੍ਰਿਤ ਦਾ ਪਾਣੀ ।
ਦੁਨੀਆਂ ਦੇ ਵਿਚ ਦਾਨੇ ਦਾਨੀ,
ਜਯੋਂ ਸਤਿਗੁਰ ਦੀ ਬਾਣੀ ।
ਦੀਵੇ ਵਾਂਙ ਬੁਝਾਈ ਦੇਵੀ,
ਜਗਦੀ ਜੋਤ ਪਛਾਣੀ,
'ਸ਼ਰਫ਼' ਵਿਖਾਈ ਓਹੋ ਕਰਕੇ,
ਜੋ ਮਾਲਕ ਮਨ-ਭਾਣੀ ।
ਸਤਿਗੁਰ ਜੀ ਦਾ ਨਾਮ ਅਨੌਖਾ,
ਲੂੰ ਲੂੰ ਵਿੱਚ ਰਚਾਇਆ,
ਜਿਸ ਪਾਸੇ ਵੱਲ ਨਿਗ੍ਹਾ ਦੁੜਾਈ,
ਓਹੋ ਨਜ਼ਰੀ ਆਇਆ,
ਐਸੀ ਉੱਚੀ ਟੀਸੀ ਉੱਤੇ,
ਪਕੜ ਪਰੇਮ ਚੜ੍ਹਾਇਆ,
'ਸ਼ਰਫ਼' ਪਯਾਰੇ ਨਾਨਕ ਜੀ ਦਾ,
ਰੁਤਬਾ ਅੰਗਦ ਪਾਇਆ ।
Poem: ਦੂਸਰੇ ਪਾਤਸ਼ਾਹ ਗੁਰੂ ਅੰਗਦ ਦੇਵ ਜੀ
Behold the radiant work of renowned Punjabi Poet, Dr. Hari Singh Jachak MA (English, Religious Study) Ph.D. Gold Medalist, as he pens the masterpiece, "Dusre Patshah Guru Angad Dev Ji". This ode is dedicated to the Parkash Gurpurab of the second Sikh Guru, Angad Dev Ji.
The poem is a true celebration of the legacy of Guru Angad Dev Ji, who was the torchbearer of the divine message after Guru Nanak Dev Ji. Dr. Jachak's words exude passion, as he paints a picture of the Guru's teachings that are based on love, unity, and the virtues of honesty and humility.
'ਮਤੇ ਕੀ ਸਰਾਂ' ਪਿੰਡ ਦੇ ਵਿੱਚ, 'ਭਾਈ ਲਹਿਣੇ' ਦਾ ਪਾਵਨ ਪ੍ਰਕਾਸ਼ ਹੋਇਆ।
ਪਿਤਾ ਫੇਰੂ ਮੱਲ, ਮਾਤਾ ਦਇਆ ਜੀ ਦੇ, ਘਰ ਵਿੱਚ ਇਹ ਬਾਲਕ ਸੀ ਖਾਸ ਹੋਇਆ।
ਬੀਬੀ ਖੀਵੀ ਨਾਲ ਹੋਇਆ ਵਿਆਹ ਹੈਸੀ, ਅੱਗੋਂ ਹਰ ਇਕ ਕਾਰਜ ਸੀ ਰਾਸ ਹੋਇਆ।
ਗੁਰ ਨਾਨਕ ਸਾਹਿਬ ਦੀ ਸੰਗਤ ਦੇ ਵਿੱਚ ਰਹਿ ਕੇ, ਹਰ ਪ੍ਰੀਖਿਆ 'ਚੋਂ 'ਲਹਿਣਾ' ਪਾਸ ਹੋਇਆ।
ਗੁਰੂ ਨਾਨਕ ਮਹਾਰਾਜ ਦੀ ਹੋਈ ਬਖਸ਼ਿਸ਼, ਭਵਸਾਗਰ ਤੋਂ ਤਰ ਗਿਆ ਭਾਈ ਲਹਿਣਾ ।
ਹਰ ਹੁਕਮ ਨੂੰ ਮੰਨ ਕੇ ਖਿੜੇ ਮੱਥੇ, ਨਾਲ ਰਹਿਮਤਾਂ ਭਰ ਗਿਆ ਭਾਈ ਲਹਿਣਾ।
ਏਸੇ ਦਰ ਦਾ ਹੋ ਕੇ ਰਹਿ ਗਿਆ ਓਹ, ਨਾ ਫਿਰ ਹੋਰ ਕਿਸੇ ਦਰ ਗਿਆ ਭਾਈ ਲਹਿਣਾ।
ਓਦਾਂ ਸੇਵਾ ਨਹੀਂ ਕੋਈ ਵੀ ਕਰ ਸਕਿਆ, ਜਿੱਦਾਂ ਸੇਵਾ ਸੀ ਕਰ ਗਿਆ ਭਾਈ ਲਹਿਣਾ।
ਗਿੱਲੇ ਘਾਹ ਦੀ ਚੁੱਕੀ ਜਦ ਪੰਡ ਸਿਰ 'ਤੇ, ਗੰਦਾ ਹੋ ਗਿਆ ਜਾਮਾ ਬਹੁਮੁੱਲ ਵੇਖੋ।
ਤੱਕ ਕੇ ਮਾਤ ਸੁਲੱਖਣੀ ਕਹਿਣ ਲੱਗੇ, ਹੋ ਗਈ ਸਾਂਈਂ ਜੀਉ, ਵੱਡੀ ਭੁੱਲ ਵੇਖੋ।
ਅੱਗੋਂ ਪਾਤਸ਼ਾਹ ਹੱਸ ਕੇ ਕਹਿਣ ਲੱਗੇ, ਛਿੱਟੇ ਚਿੱਕੜ ਦੇ, ਕੇਸਰ ਦੇ ਤੁੱਲ ਵੇਖੋ।
ਨਹੀਂ ਘਾਹ ਦੀ ਪੰਡ ਇਹ ਸਿਰ ਉੱਤੇ, ਦੀਨ ਦੁਨੀ ਦਾ ਛੱਤਰ ਰਿਹੈ ਝੁੱਲ ਵੇਖੋ।
ਆਪਣੇ ਸੀਨੇ ਨਾਲ ਲਾ ਕੇ ਪਾਤਸ਼ਾਹ ਨੇ, ਲਹਿਣੇ ਤਾਂਈਂ ਫਿਰ ਮੁੱਖੋਂ ਸੀ ਕਿਹਾ ਅੰਗਦ।
ਭੱਠੀ ਵਿੱਚ ਪਾ ਕੇ ਕੁੰਦਨ ਵਾਂਗ ਕੀਤੈ, ਤੇਰੇ ਮੇਰੇ 'ਚ ਫਰਕ ਨਾ ਰਿਹਾ ਅੰਗਦ।
ਘੜਿਐ ਸੁਰਤ ਦੀ ਸੱਚੀ ਟਕਸਾਲ ਤੈਨੂੰ, ਹੋ ਗਿਆ ਤੂੰ ਮੇਰੇ ਹੀ ਜਿਹਾ ਅੰਗਦ ।
ਤੈਨੂੰ ਜੋਤ ਮੈ ਆਪਣੀ ਸੋਂਪ ਰਿਹਾਂ, ਜਿਹੀ ਜੋਤ ਨਾਨਕ, ਚਾਨਣ ਤਿਹਾ ਅੰਗਦ।
ਸਮੇਂ ਸਮੇਂ 'ਤੇ ਸਿੱਖਾਂ ਨੂੰ ਕਿਹਾ ਉਨ੍ਹਾਂ, ਸੱਚਾ ਸੁੱਚਾ ਹਮੇਸ਼ਾਂ ਵਿਵਹਾਰ ਕਰਨੈ।
ਧਰਤੀ ਵਾਂਗ ਹੀ ਸੀਤਲ ਸੁਭਾਅ ਰੱਖਣੈ, ਕਦੇ ਭੁੱਲ ਕੇ ਨਹੀਂ ਹੰਕਾਰ ਕਰਨੈ।
ਦਸਾਂ ਨੌਹਾਂ ਦੀ ਕਿਰਤ ਕਮਾਈ ਵਿੱਚੋਂ, ਦਾਨ ਪੁੰਨ ਤੇ ਪਰਉਪਕਾਰ ਕਰਨੈ।
ਰਹਿਕੇ ਵਿੱਚ ਗ੍ਰਿਹਸਤ ਦੇ ਕਮਲ ਵਾਂਗੂੰ, ਹਰ ਇੱਕ ਦੇ ਨਾਲ ਪਿਆਰ ਕਰਨੈ।
ਮੱਲ ਅਖਾੜੇ ਸਜਾ ਕੇ ਪਾਤਸ਼ਾਹ ਨੇ, ਕਸਰਤ ਕਰਨ ਦੀ ਦਿੱਤੀ ਸਿਖਲਾਈ ਸੋਹਣੀ।
ਲਿੱਪੀ ਗੁਰਮੁਖੀ ਵੱਲ ਧਿਆਨ ਦੇ ਕੇ, ਬਾਲਾਂ ਤਾਈਂ ਪੰਜਾਬੀ ਪੜ੍ਹਾਈ ਸੋਹਣੀ।
ਬਾਬੇ ਨਾਨਕ ਦੇ ਜੀਵਨ ਬ੍ਰਿਤਾਂਤ ਵਾਲੀ, ਜਨਮ ਸਾਖੀ ਵੀ ਆਪ ਲਿਖਵਾਈ ਸੋਹਣੀ।
ਜ਼ਿੰਮੇਵਾਰੀ ਗੁਰਿਆਈ ਦੀ ਗੁਰੂ ਜੀ ਨੇ, ਕਈ ਸਾਲਾਂ ਤੱਕ ਜਾਚਕ' ਨਿਭਾਈ ਸੋਹਣੀ।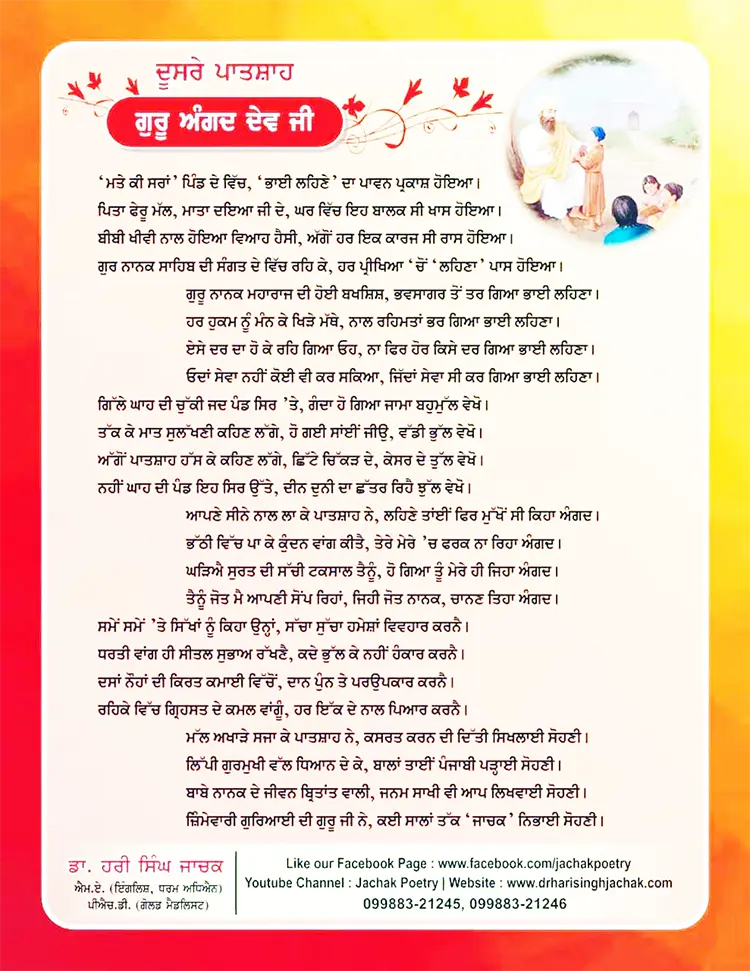 Gurpurab Celebrations in Gurudwaras come from long Sikh Traditions. Congregations gather at Gurughar to take part in the Bhog of Sri Akhand Path Sahib held in remembrance of Guru Sahib. We wish you and your family a very happy Parkash Gurpurab of Sahib Sri Guru Angad Dev Ji. May Guru Angad Dev Ji bless you with Health, Wealth, and Spiritual Enlightenment.
The Review
Guru Angad Dev Ji Birthday 2023
Celebrate the 519th Parkash Gurpurab of Sahib Sri Guru Angad Dev Ji 2023 using Poetry based on Guru Sahib, Quotes, and HD Images to wish your friends and beloved ones.
Review Breakdown
Short Biography

HD Images

Poetry

Quotes
Guru Angad Dev Ji Birthday 2023 Resources
Our aim is to gather the most excellent resources that are currently accessible.
Best Price
$0