Baba Ajit Singh – Eldest of 4 Sahibzadas
Sahibzada Ajit Singh, the eldest son of Guru Gobind Singh among 4 Sahibzadas, was a remarkable figure in Sikh history. Born on 11th February 1687 in Paonta Sahib, he was raised in the Sikh tradition and received a comprehensive education that encompassed religious teachings and martial arts training. Sahibzada Ajit Singh's life was marked by acts of bravery, leadership, and unwavering commitment to his faith.
From a young age, he demonstrated his valor by leading Sikh forces in protecting the innocent and defending their rights. His early successes earned him the trust and admiration of his father, Guru Gobind Singh, who entrusted him with more significant responsibilities, including the defense of Taragarh Fort during an attack by hill chiefs supported by imperial troops.
However, Sahibzada Ajit Singh's legacy extends beyond his martial prowess. He was not only a warrior but also a spiritual leader, embodying the principles and values of Sikhism. His dedication to serving his people and upholding justice continues to inspire generations.
This article delves into the life of Sahibzada Ajit Singh, highlighting his courageous exploits, his contributions to Sikh society, and the ultimate sacrifice he made during the battle of Chamkaur. We will explore the events that shaped his character, the significant battles he fought, and the impact of his martyrdom on Sikh history.
Biography of Sahibzada Baba Ajit Singh
Born to Mata Jito ji, also known as Mata Sundari ji, Sahibzada Ajit Singh came into this world on 11th February 1687, in Paonta Sahib. As the eldest son of Guru Gobind Singh, he was raised in the traditional Sikh manner in Anandpur. From a young age, Ajit Singh was taught religious texts, philosophy, and history. He was also trained in various forms of martial arts such as riding, swordsmanship, gatka, and archery. He grew into a handsome young man with natural leadership qualities.
At the tender age of 12, Sahibzada Ajit Singh had his first test of skill. He led a group of 100 Sikhs to protect a group of devotees who had been attacked and looted by the Ranghars of Nuh. His successful mission earned him the trust of his father, who entrusted him with a much harder task the following year.
In 1700, the hill chiefs supported by imperial troops attacked Anandpur, and Sahibzada Ajit Singh was made responsible for the defense of Taragarh Fort. Together with Bhai Ude Singh, he successfully repulsed the attack and also fought valiantly in the battles of Nirmohgarh.
A year later, in 1701, a group of Sikh devotees coming from the Darap area was waylaid by Gujjars and Ranghars. Sahibzada Ajit Singh led a successful expedition against them, showcasing his strategic thinking and bravery.
Sahibzada Ajit Singh was not just a warrior, but also a spiritual leader who embodied the values of Sikhism. His dedication and service to his people remain an inspiration to this day, as we remember the sacrifices he made for the greater good.
Once upon a time, a Brahman visited the darbar of Guru Gobind Singh to share his woes. He had been robbed of his newly-wedded wife by the ruthless Pathans of Bassi. In response to this, Sahibzada Ajit Singh took charge of the situation and promised to recover the Brahman's wife. On the night of 7th March 1703, he rode out with 100 horsemen to Bassi, near Hoshiarpur. The young and brave Sikhs led by Baba Ajit Singh attacked Bassi under the cover of darkness and successfully captured the culprits. The Brahman's wife was returned to him and the Pathans were punished severely in accordance with Guru Gobind Singh's instructions.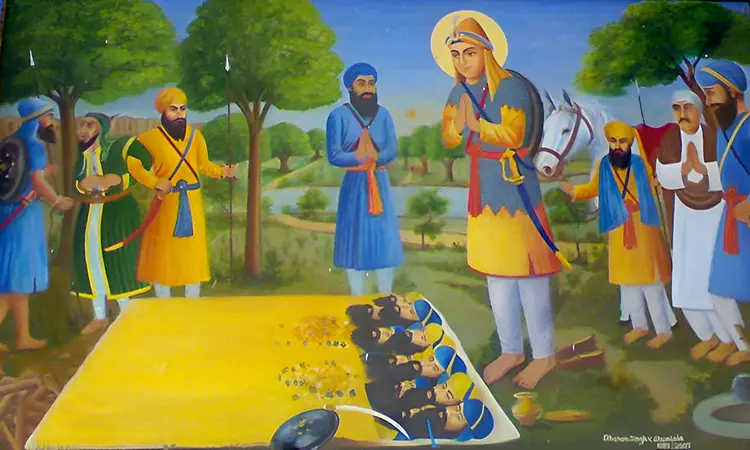 In 1705, when Anandpur was under siege, Sahibzada Ajit Singh once again exhibited his unwavering courage and bravery. When the city was finally vacated on the night of 5-6 December 1705, he was appointed the commander of the rearguard. As the besiegers breached their promise of safe passage and attacked the evacuees, he bravely fought them on a hill feature called Shahi Tibbi until he was relieved by Bhai Ude Singh. Along with his father, younger brother, Jujhar Singh, and some fifty Sikhs, he crossed the Sarsa River, which was in spate. Their column was reduced in numbers due to casualties inflicted by a pursuing troop from Ropar. The remaining Sikhs reached Chamkaur on the evening of 6 December 1705 and took refuge in a garhi – a fortified haveli.
The attackers soon caught up with them, having been joined by reinforcements from Malerkotia, Sirhind, and the local Ranghars and Gujjars. Despite being vastly outnumbered, the besieged fought valiantly. As per the Zafarnamah, a mere forty Sikhs stood against a hundred thousand. After exhausting their ammunition and arrows, they made sallies in batches of five to engage the encircling host with swords and spears. Sahibzada Ajit Singh led one such sally and sacrificed his life while fighting in the midst of the battle. He was only eighteen years old when he made the ultimate sacrifice for his faith. Sahibzada Jujhar Singh led the next sally and also met with a similar fate.
Every year, an annual fair is held in remembrance of their martyrdom on the 8th of the Bikrami month of Poh (December/January). The martyrdom of two of the sons of Guru Gobind Singh is validated by an official letter preserved in a manuscript called Ahkami Alamgiri by Emperor Aurangzeb's official letter writer, Mirza 'Inayat Ullah Khan Ismi (1653-1725). The manuscript mentions the arrival of Guru Gobind Singh to a place 12 kos from Sirhind, his siege and defeat in the haveli of a zamindar of village Chamkaur, the killing of his two sons and other companions, and the capture of his mother and another son.