Udo Na Kaaga Kaarey is a shabad from sacred baani of Bhagat Kabir in Raag Gaudee, documented on page 337 of Sahib Shri Guru Granth Ji.
It has been sung by various raagis and singers including Bhai Harjinder Singh Ji Srinagar Wale, Late Sh. Jagjit Singh Ji, Bhai Dalbir Singh Ji, Bhai Mahinder Singh Ji Khalsa Jammu Wale etc. Here are lyrics and english translation of Shabad. Waheguru Ji!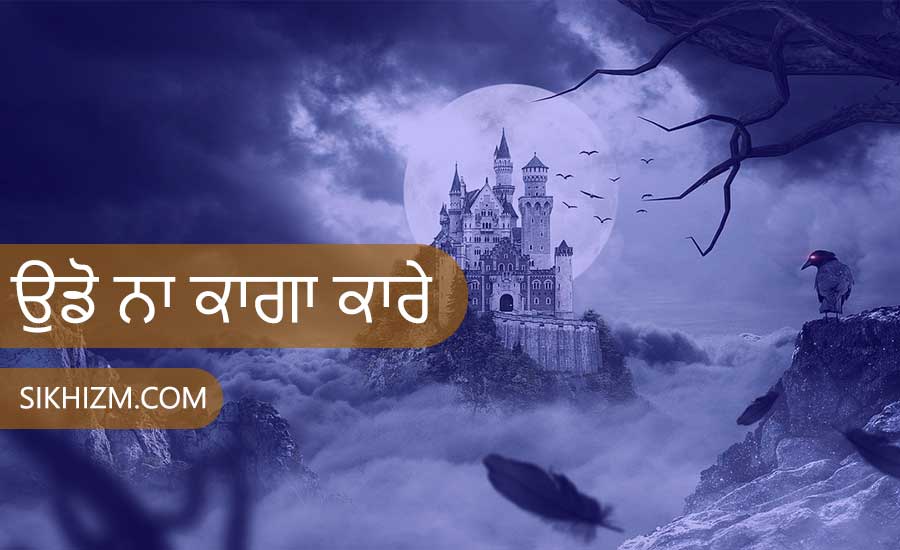 Shabad: Udahu Na Kaaga Kaarey
Creator: Bhagat Kabir
Source: Shri Guru Granth Sahib
Page No.: 337
Raaga: Gaurhee
Raag Gaudee (337)
Panth Nihaarai Kaamni Lochan Bhari Lai Usaasa
Ur Na Bheejai Pag Na Khisai Har Darshan Ki Aasa.
Udo Na Kaaga Kaare.
Beg Milijai Apuney Raam Pyaare.
Keh Kabeer Jeevan Pad Kaaran Har Ki Bhagat Karijai.
Ek Aadhaar Naam Naarayan Rasna Raam Ravijai.
English Translation by Singh Sahib Sant Singh Khalsa Ji:
The bride gazes at the path, and sighs with tearful eyes.
Her heart is not happy, but she does not retrace her steps, in hopes of seeing the Blessed Vision of the Lord's Darshan.
So fly away, black crow,
So that I may quickly meet my Beloved Lord.
Says Kabeer, to obtain the status of eternal life, worship the Lord with devotion.
The Name of the Lord is my only Support; with my tongue, I chant the Lord's Name.