Guru Arjan Dev Ji Gurpurab 2023
Guru Arjan Dev Ji Parkash Purab 2023: 5th Sikh Guru Sri Guru Arjan Dev Ji was born to mother Bhani Ji and father Sri Guru Ramdas Ji at the holy land of Goindwal Sahib on April 15, 1563. Accordingly, Vaisakh Vadi 7th, (19th Vaisakh) Bikrami Samvat 1620. Celebrate the 460th Parkash Gurpurab of Satguru Arjun Dev Ji on April 12th, 2023 Wednesday.
Guru Arjan Dev Ji Short Biography
Guru Arjan Dev (1563-1606)
He was the youngest son of Guru Ram Das, who grew up to be a great poet of excellence, a great philosopher, an organizer, and the first martyr in Sikh history. He was selected by Guru Ram Das to be his worthy successor in preference to the two elder brothers Prithi Chand and Mahadev.
A temple was built by him in the heart of the city of Amritsar, known as the Golden Temple, with doors on all four sides, indicating its openness and entry by men of all four castes (of Hindus) and from all four directions of the world.
In fact, it is said that a Muslim Saint Sain Mian Mir, a great friend, and lover of the Guru, was invited to lay the foundation stone of the temple. He built the cities of Taran Taran and Kartarpur also along with tanks for the people to bathe.
The main task of the fifth was the compilation of Sri Guru Granth Sahib by collecting all the available hymns of his predecessors, including 2218 hymns of his own. He gave the Sikhs a central place of worship, the Golden Temple, and organized congregations for daily worship.
Seeing the growing popularity of the Guru both among Hindus and Muslims, the Mughal emperor Jehangir wanted to put an end to his life and finally got him executed on some pretext. So the Guru died a martyr at Lahore in May 1606; where a Gurdwara 'Dera Sahib stands in his memory.
Why is Guru Arjan Dev Ji called 'Shaheeda De Sartaaj' ?
There have been many shaheeds before Guru Arjan Dev Ji in different religions. The reason that Guru Arjan Dev Ji is called Shaheedan De Sirtaj is that the great ones who became shaheed before Guru Arjan Sahib Ji were given a sentence to death, they had no choice accept sacrificing themselves but on the other hand Jahangir the Mughal Ruler of that time has given Guru Sahib two choices that either he can save his life if he converts into Islam and abandon Sikhi or he can accept death if he does not agree to convert.
Guru Arjan dev Ji Maharaj denied the option of life and chose death for his principles and honor of Sikhi. Guru Sahib sacrificed himself for giving his Sikhs a path of Shaheedi on which many Sikhs were going to walk and attain martyrdom. This color Shaheedi which we see in the Sikh Panth is given by Guru Arjan Dev Ji Maharaj by not just telling but sacrificing himself and setting a role model for the coming generations.
Guru Arjan Dev Ji Birthday 2023 Wishes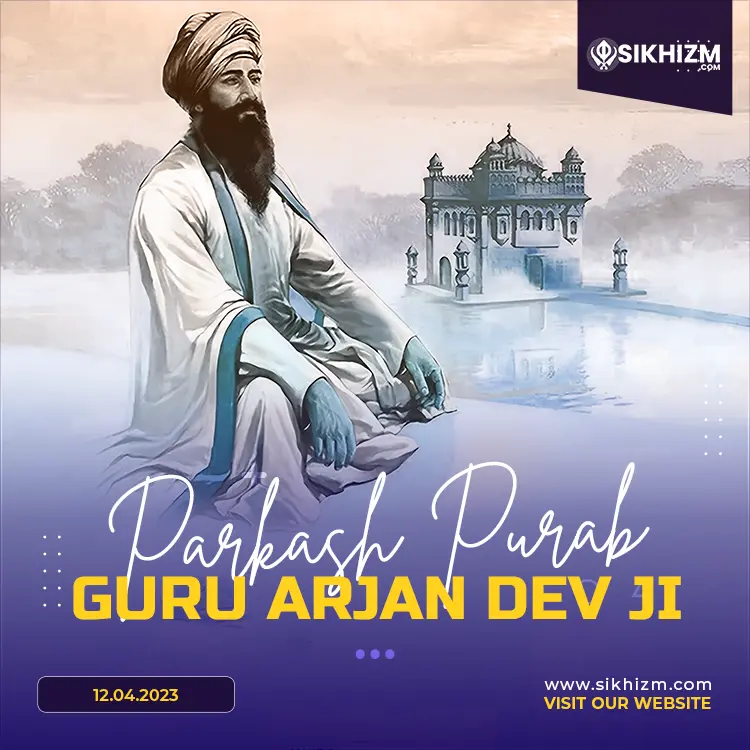 ਧਰਮ ਪੁੰਜ ਸਿਰੋਮਣੀ ਸਿਦਕੀਆਂ ਦੇ,
ਸਿਦਕ ਸੀਸ ਦੇ ਨਾਲ ਨਿਭਾਣ ਵਾਲੇ।
ਦੁੱਖ ਸੁੱਖ ਦੇ ਵਿਚ ਅਡੋਲ, ਰਹਿਕੇ,
ਸਿਦਕ ਸਬਰ ਦੇ ਪੂਰਨੇ ਪਾਣ ਵਾਲੇ।
ਰਹਿਕੇ ਤਰਨ ਤਾਰਨ ਗੋਇੰਦਵਾਲ ਅੰਦਰ,
ਗੀਤ ਮੋਹਿਨ ਪਿਆਰੇ ਦੇ ਗਾਣ ਵਾਲੇ।
ਕਦੇ ਹਰੀ ਮੰਦਰ ਕਦੇ ਦੇਗ ਅੰਦਰ,
ਕਦੇ ਲੋਹ ਤੇ ਚੌਂਕੜੀ ਲਾਣ ਵਾਲੇ।
ਸਿਦਕ ਵਾਨ ਗੰਭੀਰ ਤੇ ਬ੍ਰਹਮ ਗਯਾਨੀ,
ਪੁੰਜ ਸੱਚ ਦੇ ਸੱਚ ਧਿਆਣ ਵਾਲੇ।
ਵਾਰੀ ਲੱਖ ਵਾਰੀ ਸੱਚੇ ਗੁਰੂ ਅਰਜਨ,
ਬੇੜੀ ਰੁੜ੍ਹੀ ਜਾਂਦੀ ਬੰਨੇ ਲਾਣ ਵਾਲੇ ।
Wish you all a very Happy Guru Arjan Dev Pakash Purab Jayanti 2023. May Guru bless you and your family members with a blissful life filled with the light of Guru Sahib's Wisdom through his words.
The Review
Guru Arjan Dev Ji Parkash Purab 2023:
Guru Arjan Dev Ji Parkash Purab 2023:: Celebrate Parkash Gurpurab of 5th Sikh Guru Arjan Dev Ji Maharaj with Images, Quotes, Poetry, Wish Messages.
Review Breakdown
History Explained

HD Graphics

Poetry

Quotes