Guru Granth Sahib Gurgaddi Diwas
Gurgaddi Diwas of Guru Granth Sahib is celebrated annually in remembrance of the day When the 10th Sikh Guru Gobind Singh Ji passed the spiritual throne of Guru Nanak Dev Ji to Granth Sahib. This incident is said to have occurred during his final days at Nanded.
This year 2023, the Gurpurab is being celebrated with full enthusiasm at Abchal Nagar, Takht Sri Hazur Sahib, Nanded on November 15th, Wednesday.
| Gurpurab | CE Date | Nanakshahi Date Date |
| --- | --- | --- |
| Guru Granth Sahib Gurgaddi Diwas 2023 | 15th November 2023, Wednesday | 30 Katak, 555 |
Who is Guru Granth Sahib?
Sri Guru Granth Sahib Ji is the full title of the Sikh Holy Scripture, also referred to as Guru Granth Sahib. The revealed Word in Guru Granth Sahib is called Bani or Gurbani. Bani was received by the Sikh Gurus and many saintly devotees (bhagats) of "Waheguru", the Wondrous Dispeller of Darkness. Waheguru is the most commonly used Sikh Name for the Creator Being. However, other names for the One Divine Source of All Creation are also acceptable, and many names from Hindu and Muslim religions are used in Guru Granth Sahib. That is also due to the diverse religious backgrounds of the saintly beings, bhagats, whose bani is included in the Sikh Scripture.
Guru Granth Sahib was first compiled as the Aad Granth in 1604, by the Fifth Guru, Guru Arjan Dev (1563 -1606). This historical event is celebrated as Guru Granth Sahib Parkash Divas each year according to the Nanakshahi Calendar (the approved Sikh calendar.) With further additions, the final and updated version of the Aad Granth was vested with the authority of Guruship by the Tenth Guru, Guru Gobind Singh in 1708, before he departed for Sach Khand (the Plane of Truth). Thenceforth, the Aad Granth was instituted as Guru Granth Sahib, the Shabad (Word) Guru, which is known as Gurgaddi Gurpurab of Guru Granth Sahib.
History of Guru Granth Sahib Gurgaddi Diwas
At Nanded, where he arrived in the last week of August 1708, he performed the normal duties of life and regularly attended and addressed the assemblies of the Sikhs and other people both in the morning and afternoon when the Dhadis headed by Natha Mall and his companions recited ballads on Sikh themes. He was in the best of spirits throughout his stay there.
Although warned on his way to the Deccan by the Dadupanthi saint Jait Ram of the sorceries of the Bairagi ascetic Madho Das, the Guru visited his hermitage on the bank of the river Godavari on September 3, 1708, the day of sun-eclipse, and successfully reclaimed him to normal life in the world. He then baptized him into a regular Khalsa and relumed him with Promethean fire to play in the Paniab the historic role of a valiant hero and a great martyr.
Guru Granth Sahib Gurgaddi Diwas 2023 Wishes Image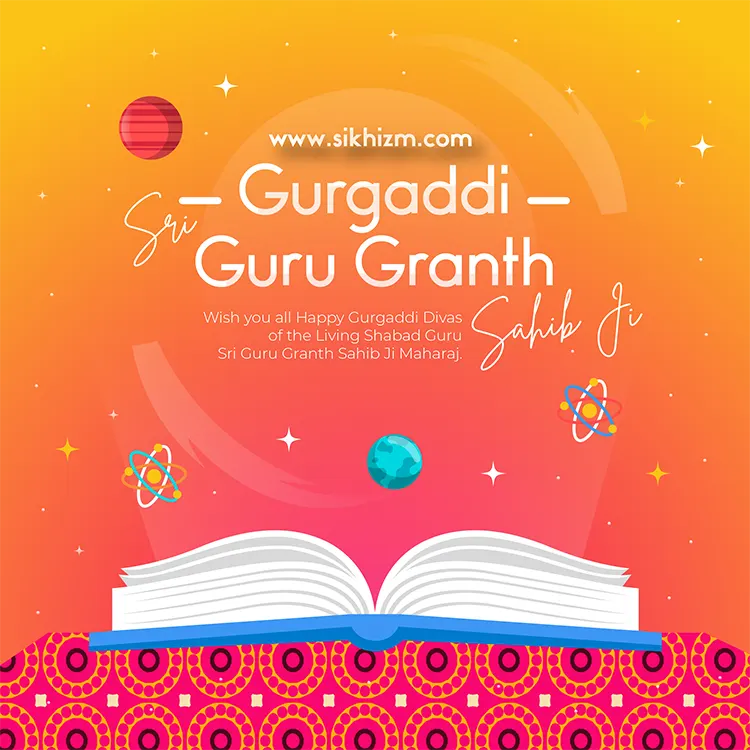 Download HD
Even when he had been stabbed near the heart and his imperfectly healed wound had burst open as the result of his bending a stiff bow, he maintained his usual cheerfulness and told his sorrowful Sikhs not to give way to mourning his death.
foreseeing his physical end coming near, Guru Gobind Singh Ji asked his disciples to get the holy book or the Granth Sahib to him. He then placed five paise and one coconut before the sacred Granth, went around it thrice, and bowed before it.
Then he instructed his disciples that after him, the Guru Granth Sahib was to be their sole guide. He asked them to follow the commands and instructions enshrined in the holy book. He also told them that there was to be no personal Guru after him; no man was to be regarded as the Guru, For all religious and spiritual matters the Guru Granth Sahib had to be referred to.
In his parting message, he told the Sikhs to end the system of personal Gurus and said that he would be there for them whenever they needed him or called for him with a pure heart and a true mind. He entreated them to preserve the Khalsa uniform, Khalsa identity, and the Khalsa principles.
In his farewell message, he told the khälsa:
I have entrusted you to the Immortal God.
I have infused my mental and bodily spirit into the Granth Sahib and the Khalsa
Obey the Granth Sahib.
It is the visible body of the Guru.
(Macauliffe, The Sikh Religion, vol. V, p. 244.]
Quotes on Gurgaddi Purab Guru Granth Sahib Ji
Bhai Nand Lal Ji who was beloved sikh of Guru Sahib, was present at Nanded and he wrote in his rehatnama, final words of Guru were:
'ਮੇਰਾ ਰੂਪ ਗ੍ਰੰਥ ਜੀ ਜਾਨ।। ਇਸ ਮੇਂ ਭੇਦ ਨਹੀਂ ਕਿਛ ਮਾਨ।।'
Gurgaddi Diwas Guru Granth Sahib Ji 2023 Greeting Image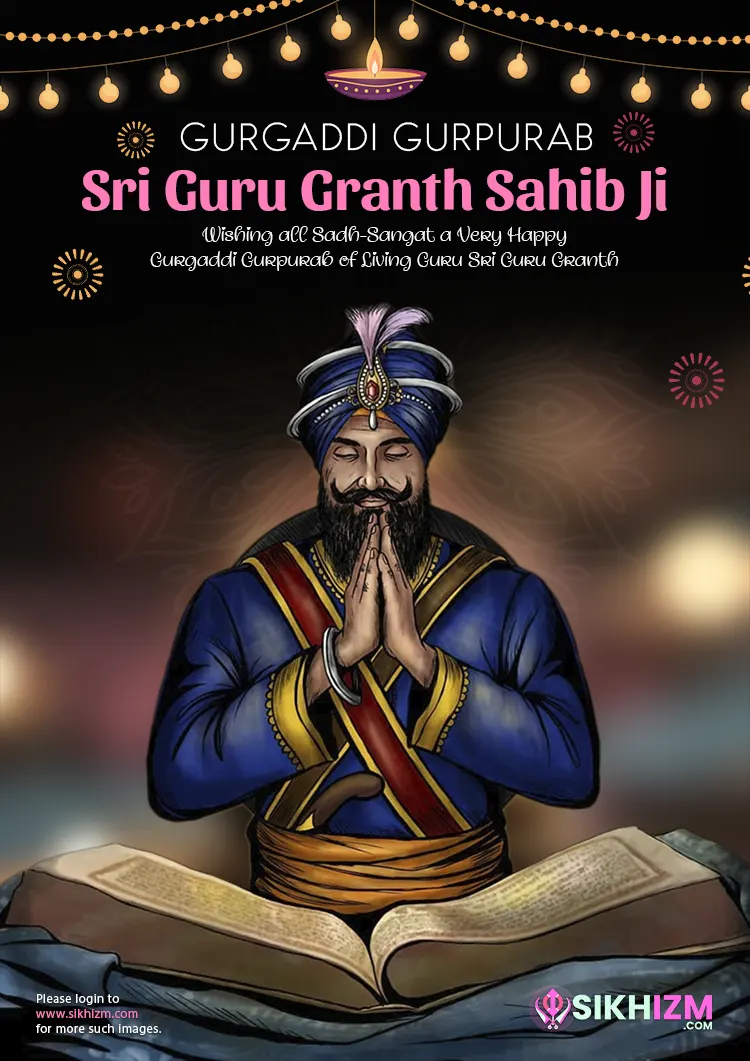 Below are the words from 'Rehatnama Bhai Prahlad Singh Ji'. Although he was not present at Nanded during Gurudev's ascension, he wrote these lines after listening to the Sangat present there.
ਆਗਿਆ ਭਈ ਅਕਾਲ ਕੀ ਤਭੀ ਚਲਾਇਓ ਪੰਥ।।
ਸਭ ਸਿੱਖਨ ਕੋ ਹੁਕਮ ਹੈ ਗੁਰੂ ਮਾਨਿਓ ਗ੍ਰੰਥ।।
ਇਹ ਲਫ਼ਜ਼ ਭਾਈ ਪ੍ਰਹਲਾਦ ਸਿੰਘ ਜੀ ਦੇ ਰਹਿਤਨਾਮੇ ਵਿਚੋਂ ਲਏ ਗਏ ਹਨ।
Guru Granth Sahib Ji Gurgaddi Gurpurab 2023 Image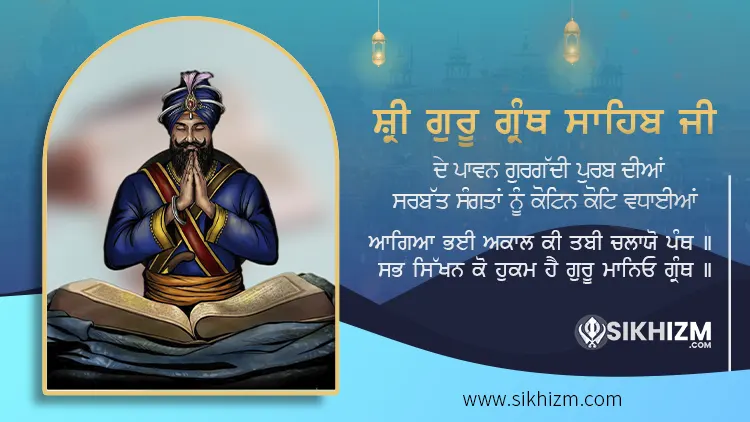 And the final words from Guru Granth Sahib itself declaring its authority to the highest seat as:
ਬਾਣੀ ਗੁਰੂ ਗੁਰੂ ਹੈ ਬਾਣੀ ਵਿਚਿ ਬਾਣੀ ਅਮ੍ਰਿਤੁ ਸਾਰੇ।।
ਗੁਰੁ ਬਾਣੀ ਕਹੈ ਸੇਵਕੁ ਜਨੁ ਮਾਨੈ ਪਰਤਖਿ ਗੁਰੂ ਨਿਸਤਾਰੇ।।
[SGGS Ang 982]
& More
ਪੋਥੀ ਪਰਮੇਸਰ ਕਾ ਥਾਨੁ, ਸਾਧ ਸੰਗਿ ਗਾਵਹਿ ਗੁਣ ਗੋਬਿੰਦ ਪੂਰਨ ਬ੍ਰਹਮ ਗਿਆਨੁ ॥
( SGGS, Mahalla 5th, Ang 1226)
True Message of Guru Granth Sahib
Guru Granth is not an idol to be worshipped but to be read and contemplated and its divine principles are enshrined in our hearts and lives as guiding precepts.
There is one God, common to all creation, not a Jewish, Christian, Muslim, Hindu, or Sikh God, etc. Such a partisan god is a lesser god not worthy of worship.
God is known by myriad names. God has no gender, form, color, caste, race, or nationality. Any descriptions of God remain incomplete; any images of God are false. Gender and racial equality lie at the core of Sikh teaching.
Guru Granth teaches that truth is high, higher yet is truthful living. Cultivate such a lifestyle.
Guru Granth asks that we do not view human existence as a fall from grace but as a unique opportunity to discover the divinity that is common to us and is inherent in us all.
The ultimate reality is not to be found in the life of the ascetic, on the mountaintop, in the jungle, or by renouncing the world. It is to be discovered in family life within the contradictions of our daily existence. God is to be found in a productive family life dedicated to honest earning and service to mankind, lived in an awareness of the Infinite within us all.
Ego, avarice, greed, lust, and pride constitute the five great vices that destroy us from within and that must be harnessed to a productive, honest life.
Guru Granth recommends a lifestyle of modest consumption, no food taboos, and a prohibition of mood or mind-altering drugs and intoxicants.
Guru Granth asks that we learn to recognize and celebrate the different beats of the distant drummer to which many of us choose to march. Our lives should, therefore, rejoice in the cultural, racial, and religious diversity of mankind.
The Review
Guru Granth Sahib Gurgaddi Diwas 2023
Guru Granth is not an idol to be worshipped but to be read, and contemplated and its divine principles are enshrined in our hearts and lives as guiding precepts. Gurgadddi Gurpurab of Granth Sahib is celebrated to mark the passing of Guruship to Pothi Sahib by Guru Gobind Singh Ji at Nanded. Download beautiful Images, history of the day and Quotes from Gurbani and Other sources to celebrate the day.