Guru Amar Das Birthday
Celebrate the 544th birth anniversary of the third Sikh Guru, Sri Guru Amar Das Ji on the auspicious occasion of Guru Amar Das Ji Parkash Gurpurab 2023, on the 4th of May! This day honors the life and teachings of a spiritual master who profoundly impacted Sikhism and its followers.
As we celebrate this joyous occasion, let us be reminded of Guru Amar Das Ji's timeless wisdom and his unwavering commitment to selfless service, equality, and social justice. His teachings continue to inspire and guide us toward leading a life filled with compassion and love.
| | |
| --- | --- |
| Parkash Gurpurab | Sri Guru Amar Das Ji |
| Date | 4th May 2023 |
| Day | Thursday |
Guru Amar Das Ji
Guru Amar Dass was born on the 5th May 1479 A.D., at village Basarke in Amritsar district. His father's name was Sri Tej Bhan and his mother's Lakshmi, His father did some fanning and trade. He was the eldest in a family of four brothers. He was married to Ram Kaur, daughter of Devi Chand Khatri in 1503 A.D. Gurudev had two sons, Baba Mohan and Baba Mohri, and two daughters, Bibi Bhani and Bibi Dani.
Amar Das's parents had a religious bent of mind and spent a lot of time in religious and charitable activities. In this pious environment, the child developed a remarkable interest in holy activities. Encouraged by the kins he visited saints on the outskirts of the village and served them with pleasure. In due 'course, Amardas became familiar with the Ramayana, the Mahabharata, the Puranic literature, and features of the Hindu religion. He grew up to be a young man of religious temperament.
He used to be a true devotee of Mata Vaishno Devi and had been going to the annual pilgrimage of the mountains for decades. During one such pilgrimage in 1541 CE, an incident turned his entire purpose into the quest for a true Guru instead, and then he met Guru Angad Dev Ji.
Guru Amar Das Poetry
Excerpts from Punjabi Poem 'ਨਿਉਟਿਆਂ ਦੀ ਓਟ' by Pritam Singh Kasad – dedicated to Guru Amar Das Ji.
ਅਮਰ ਦਾਸ ਨਿਘਰਿਆਂ ਦਾ ਘਰ ਲੋਕੋ,
ਠੰਢੀ ਸੰਘਣੀ ਮਿੱਠੜੀ ਛਾਂ ਜੇ ਇਹ।
ਗੁਰੂ ਅੰਗਦ ਨੇ ਛਾਤੀ ਦੇ ਨਾਲ ਲਾ ਕੇ,
ਕਿਹਾ ਲੱਖਾਂ ਯਤੀਮਾਂ ਦੀ ਮਾਂ ਜੇ ਇਹ।
ਹੈ ਜੇ ਆਸਰਾ ਓਟ ਨਿਉਟਿਆਂ ਦੀ,
ਦੁਖੀ ਦਿਲਾਂ ਲਈ ਨੇਕ ਨਿਆਂ ਜੇ ਇਹ।
Poem 'ਤਾਰਨ ਵਾਲਾ ਗਰੂ' by renowned Poet Vidhata Singh Teer.
ਗੁਰੂ ਅਮਰ ਦੇਵ ਜੇ ਮੇਹਰ ਕਰੇ, ਜੀ ਸੁਫਲਾ ਜੀਵਨ ਕਰ ਜਾਵੇ।
ਚਰਨਾਂ ਦੀ ਦੇਵੇ ਛੁਹ ਜਿਸ ਨੂੰ, ਉਹ ਸੜਦਾ ਬਲਦਾ ਠਰ ਜਾਵੇ।
ਮੇਹਰਾਂ ਦਾ ਬੱਦਲ ਜੇ ਕਿਧਰੇ, ਮੇਹਰਾਂ ਦੇ ਘਰ ਵਿਚ ਆ ਜਾਵੇ।
ਜਿਸ ਜਿਸ ਹਿਰਦੇ ਤੇ ਵਰ੍ਹ ਜਾਵੇ, ਉਸ ਉਸ ਵਿਚ ਅੰਮ੍ਰਿਤ ਭਰ ਜਾਵੇ।
ਜਿਸ ਖਡੀ ਵਿਚ ਉਹ ਡਿਗਿਆ ਸੀ, ਜੇ ਉਸਦੇ ਦਰ ਕੋਈ ਜਾ ਡਿੱਗੇ।
ਉਹ ਜੂਨ ਜਨਮ ਤੋਂ ਛੁੱਟ ਜਾਵੇ, ਮੁੜ ਫੇਰ ਨਾ ਜਮ ਦੇ ਦਰ ਜਾਵੇ।
ਜੋ ਆਣ ਬਾਉਲੀ ਉਸਦੀ ਵਿਚ, ਇਸ਼ਨਾਨ ਕਰੇ ਤੇ ਧਿਆਨ ਧਰੇ ।
ਜੇ ਪ੍ਰੇਮ ਉਹਦੇ ਵਿਚ ਡੁਬ ਜਾਵੇ, ਤਾਂ ਭਵ ਸਾਗਰ ਤੋਂ ਤਰ ਜਾਵੇ।
ਜੋ ਆਣ ਚੁਰਾਸੀ ਪਾਠ ਕਰੇ, ਓਸ ਦੇ ਚੌਰਾਸੀ ਪੌੜਾਂ ਤੇ।
ਕੱਟ ਫਾਸੀ ਗਲੋਂ ਚੁਰਾਸੀ ਦੀ, ਉਹ ਕਲਗੀਧਰ ਦੇ ਘਰ ਜਾਵੇ।
ਨਹੀਂ 'ਤੀਰ' ਜਮਾਂ ਦੇ ਵਸ ਪੈਂਦਾ, ਨਰਕਾਂ ਦੇ ਕੋਲੋਂ ਲੰਘਦਾ ਨਹੀਂ।
ਉਹ ਜੀਵਨ ਪਾਏ ਹਮੇਸ਼ਾਂ ਦਾ, ਜੋ ਇਸ ਦੇ ਦਰ ਤੇ ਮਰ ਜਾਵੇ।
1. Download Happy Guru Amar Das Ji Jayanti 2023 Wishes Image
Guru Amar Das Ji strengthened the tradition of 'Guru ka Langar' and made it compulsory for the visitor to the Guruji saying that 'Pehle Pangat Phir Sangat'.
He supported remarriage and denounced the practice of Sati, a Hindu custom compelling a widow to be burnt alive on her husband's funeral pyre.
2. Guru Amar Das Ji Gurpurab 2023 | Birthday Wishes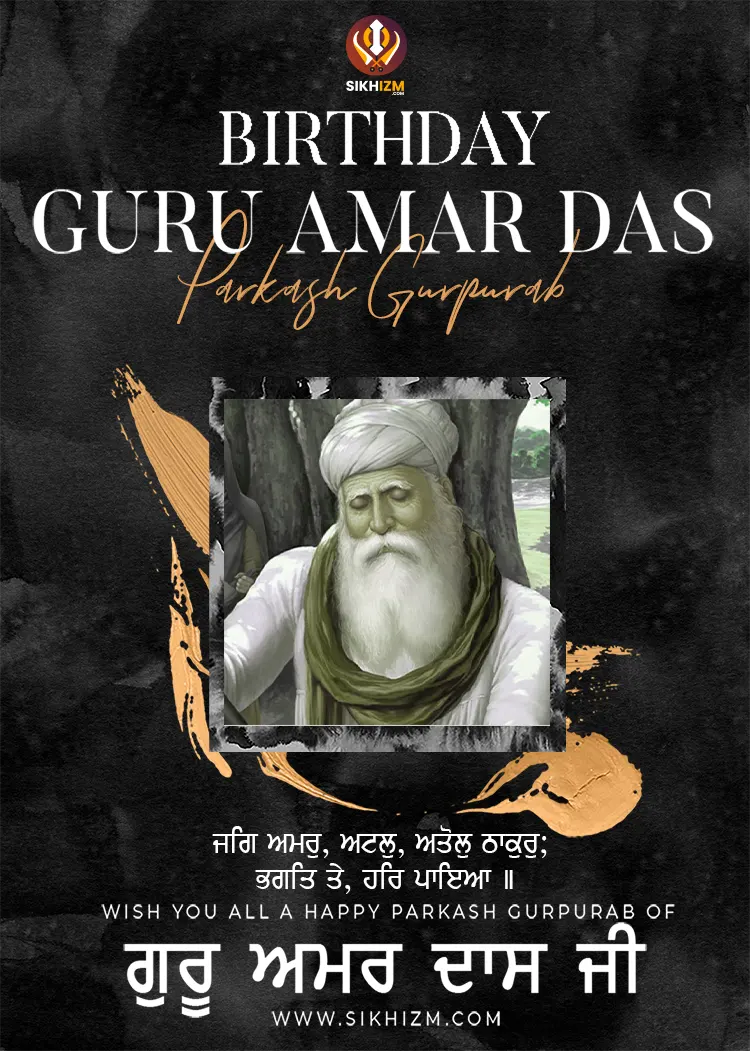 May the divine words of Guru fill you with an eternal state of ecstasy. Wish you and your loved ones, a very Happy Parkash Gurpurab of Sahib Sri Guru Amar Das Ji.
The Review
Guru Amar Das Ji Parkash Gurpurab Wishes, Quotes, Poetry
Guru Amar Das Birthday: Guru Amar Das Gurpurab 2023 marks the 543rd birth anniversary of the third among 10 Sikh Gurus - Sri Guru Amar Das Ji.
Review Breakdown
Image Quality

Poetry Relevancy

Article Length