Guru Tegh Bahadur Jayanti 2023
Guru Tegh Bahadur Jayanti 2023: Guru Tegh Bahadur is known as Hind Di Chadar for his supreme sacrifice given in order to protect the religious dignity of Hindus. We're celebrating the 401st Parkash Gurpurab ( Jayanti, Birthday ) of Sri Guru Tegh Bahadur in 2023.
Early life
Guru Tegh Bahadur (1621-1675), was the ninth Guru of the Sikhs. He was born on 1 April 1621. His mother's name was Mata Nanaki the daughter of Hari Chand and Hardevi living in the village Bakala. He was the youngest son of Guru Hargobind, Nanak VI, (1895-1644). He also had one older sister. The place where he was born is called Guru Ke Mahal on Guru Bazaar Street in Amritsar, Punjab, India.
He was named Tyag Mall at birth and he was later given the name Tegh Bahadur (the fearless master of the sword) by his father due to his exceptional bravery in the battle of Kartarpur in April 1635. This was the last of Guru Hargobind's four defensive battles when attacked by local Mughal rulers under various excuses.
He was married on 4 February 1633 to Gujri (1624-1705), daughter of Lal Chand Subhikkhi and Bishan Kaur who were living at Kartarpur, in the Jalandhar district. Their family village was Lakhnaur near Ambala.
Guru Hargobind decided to settle down at Kiratpur in the Himalayan Shivalik hills with his household in May 1635. Tegh Bahadur was 14 years old by now and stayed there with his Gurufather till the latter's demise on 3 March 1644. His father taught him the deeper Miri-Piri (temporal-spiritual) message of Gurbani in Adi Granth.
This was a period of nine years of participation and service in Guru-darbar (Guru's court) and Tegh Bahadur had firsthand experience of the affairs of Guruship in his father's company. Sikh Sangat (congregations) from different parts of the country and beyond, visited Guru Hargobind at Kiratpur. He also accompanied his father on some preaching tours in the regions north and west of Delhi including Haryana and adjoining parts of Rajasthan.
Guru Hargobind, about whom Bhai Gurdas wrote, "The warrior Guru, the vanquisher of armies, but his heart is full of love and charity", passed the Guruship to Har Rai, his grandson, the younger son of Baba Gurditta, before his demise on 3 March 1644.
Before his departure from this world, Guru Hargobind also instructed Tegh Bahadur, who was then 23 years old, of his great mission ahead. While carrying out his responsibility towards the Guru family at Kiratpur, he was asked to take his mother, Mata Nanaki, and his wife, Gujri, to go and live at Bakala. His maternal grandparents (Nana and Nani). Hari Chand and Hari Devi lived at Bakala. Tegh Bahadur was also to receive the income from Guru Hargobind's land at the new town of Sri Hargobindpur.
Baba Tegh Bahadur, as he was then addressed with respect, arrived at Bakala on 3 March 1644. For the next 20 years, fulfilling this mission, he remained constantly available to serve Guru Nanak's Jote (Light) residing in the successors of Guru Hargobind: his grandson, Guru Har Rai, Guruship 1644-1661, and next, his grandson and Guru Har Rai's younger son, Guru Har Krishan, Guruship 1661-1664. From time to time, Baba Tegh Bahadur visited Kiratpur, the family base.
He made Bakala his base while he also spent many years on long preaching tours, especially from 1656, as requested by Nanak VII, Guru Har Rai (otherwise, his nephew by relationship). His choice was for a simple life, inclined towards solitude; yet he was active as a householder and preacher of Guru Nanak's mission.
He had numerous visitors from Sangat (Sikh congregations) in India and abroad e.g. from places like Kabul, who came to meet the Sant Saroop (saintly) son of the great saint-warrior Guru Hargobind. He sat in the local Sangat and recited Gurbani. Sikh sources confirm an unobtrusive but active life during this period, otherwise much misrepresented even by some Sikh preachers portraying Tegh Bahadur as some sort of recluse or ascetic in the Brahmanic tradition.
Guru Teg Bahadur was contemplative practicing seclusion and meditation until called upon to assume the leadership of the Sikhs. He spent a lot of his time in East India preaching Sikhism. Many expeditions of Aurangzeb against Assam had failed and the Guru provided the intervention for negotiation between the two parties. He was publicly beheaded in Delhi (Chandni Chowk) in November 1675 for challenging the oppression of Aurangzeb against Hinduism.
Guru Tegh Bahadur's teachings
Guru Tegh Bahadur's Gurbani (Guru's Word) in Sri Guru Granth Sahib is in 56 Slokas (couplets) and 59 Shabads (holy hymns) in 15 classical Raags (musical measures). The language is the popular Santbhasha spoken by the Indian saints or bhagats (holy men and women). His Message is soul-stirring and his unique martyrdom instilled death-defying courage in the frightened and downtrodden masses of the sub-continent.
There is an essential Guru Jote (Light) continuity in Guru Tegh Bahadur's teaching in the tradition of Jote Oha, Jugat Saee (Same Guru Light. of Guru Nanak - same methodology). It is the same revolutionary message as that of Guru Nanak's 'Game of Love and that of the Guru-persons who followed. Acceptance of death is a pre-condition to full and fearless participation in this life. In Sikhi, inner detachment is not an excuse for opting out. Rather it is raj-jog as taught by Guru Nanak. Inner detachment from world-play makes a person fearless, and a warrior, fighting a just cause, invincible.
Hiding from oppression and evil is not an option for those who wish to tread the righteous path of Guru Nanak. This was a path in which Armed defense was justified as a last resort. Throughout his life, the Guru retained his interest in the use of arms and in hunting while he prepared for the great task ahead - the Kalu meh Saka (epic deed in the Age of Darkness") - which he was destined to perform in the Hukum (Will or Order) of the Akal Purakh (Timeless Being).
That message instilled unlimited courage in downtrodden people so that they proved to be more than a match for the evil empire of a bigoted despot, Aurungzeb. Thus, the ideological foundation was laid for the emergence of the invincible Khalsa, the Army of the Timeless Being.
401 Years Guru Tegh Bahadur Parkash Gurpurab 2023 Wishes
धर्म की खातिर दे दी इन्होंने अपनी जान।
कर दिया क्रूर औरंगजेब का अहंकार चूर चूर,
ग़रीब दुखियारी के कष्टों को किया आपने दूर।
मुग़ल पापीयों का था, हर तरफ बोलबाला।
ऐसे कठिन समय पर आप बने सब का सहारा।
आओ करें हम गुरु तेग बहादुर जी का गुणगान,
इन्हीं के लिए है संसार का सारा मान और सामान।
Guru Tegh Bahadur Jayanti Poetry
Poem on the Supreme Sacrifice of Guru Tegh Bahadur Ji written by renowned poet Karmjit Singh Gathwala.
ਤੇਗ਼ ਜ਼ੁਲਮ ਦੀ ਹੋਈ ਜਾਂ ਹੋਰ ਤਿੱਖੀ,
ਸਿਰ ਲਟਕੀ ਆ ਪੰਡਿਤ ਕਸ਼ਮੀਰੀਆਂ ਦੇ।
ਦਿਲ ਸੋਚਦਾ ਤੇ ਗੋਤੇ ਖਾਣ ਲਗਦਾ,
ਤਾਰੇ ਘੁੰਮਦੇ ਵਾਂਗ ਭੰਬੀਰੀਆਂ ਦੇ ।
ਰਾਤੀਂ ਨੀਂਦ ਆਵੇ ਸੁਪਨੇ ਵਿੱਚ ਦਿੱਸਣ,
ਦਰਿਆ ਵਹਿਣ ਸਭ ਲਹੂ-ਤਤੀਰੀਆਂ ਦੇ ।
ਧਰਮ ਛੱਡਣਾ ਜਾਪਦਾ ਬਹੁਤ ਔਖਾ,
ਪੈਂਡੇ ਲੱਗਦੇ ਨੇੜੇ ਅਖੀਰੀਆਂ ਦੇ ।
ਕੱਠੇ ਹੋਏ ਸੱਭੇ ਹੁਣ ਕੀ ਕਰੀਏ,
ਹਿੰਦੂ-ਰਾਜਿਆਂ ਵੱਲ ਨਿਗਾਹ ਕੀਤੀ ।
ਜਿਸ ਜਿਸ ਦਾ ਬੁਲ੍ਹਾਂ ਤੇ ਨਾਂ ਆਵੇ,
ਜਾਪੇ ਘੋਲ ਕੇ ਉਸੇ ਨੇ ਸ਼ਰਮ ਪੀਤੀ ।
ਕੋਈ ਸੂਰਮਾ ਕਿਧਰੇ ਦਿਸਦਾ ਨਾ,
ਗੁੜ੍ਹਤੀ ਅਣਖ ਦੀ ਜਿਸਨੇ ਹੋਏ ਲੀਤੀ ।
ਪਾਣੀ ਮਰ ਗਿਆ ਸਭਨਾਂ ਅੱਖੀਆਂ ਦਾ,
ਪਈ ਸਭ ਦੀ ਦਿੱਸੇ ਜ਼ੁਬਾਨ ਸੀਤੀ ।
ਦੂਰ ਦੂਰ ਤੋੜੀ ਸਭਨਾਂ ਨਜ਼ਰ ਮਾਰੀ,
ਜ਼ੁਲਮੀ-ਰਾਤ-ਕਾਲੀ ਦਿੱਸ ਆਂਵਦੀ ਏ ।
ਕੋਈ ਤਾਰਾ ਵੀ ਕਿਧਰੇ ਦਿਸਦਾ ਨਾ,
ਬਦਲੀ ਗ਼ਮਾਂ ਦੀ ਸਭ ਲੁਕਾਂਵਦੀ ਏ ।
ਕੀਹਦੇ ਘਰੋਂ ਜਾ ਰੋਸ਼ਨੀ ਮੰਗ ਲਈਏ,
ਕਿਧਰੇ ਬੱਤੀ ਨਾ ਟਿਮ-ਟਿਮਾਂਵਦੀ ਏ ।
ਬਾਬੇ ਨਾਨਕ ਦੀ ਚਮਕਦੀ ਜੋਤ ਵੱਲੇ,
ਆਸ ਉਂਗਲੀ ਫੜ ਲੈ ਜਾਂਵਦੀ ਏ ।
ਆਖ਼ਿਰ ਸਿਆਣਿਆਂ ਸੋਚ ਵਿਚਾਰ ਕਰਕੇ,
ਕੁਝ ਬੰਦੇ ਆਨੰਦਪੁਰ ਵੱਲ ਘੱਲੇ ।
ਕਿਤੇ ਬੈਠ ਨਾ ਉਨ੍ਹਾਂ ਆਰਾਮ ਕੀਤਾ,
ਵਾਹੋਦਾਹੀ ਉਹ ਪੈਂਡਾ ਮੁਕਾ ਚੱਲੇ ।
ਪਹੁੰਚ ਪੁਰੀ ਆਨੰਦ ਹੀ ਦਮ ਲਿਆ,
ਮਨ ਡਰ ਆਉਂਦਾ ਕਰ ਕਰ ਹੱਲੇ ।
ਨੌਵੇਂ ਨਾਨਕ ਦੇ ਵਿਚ ਦਰਬਾਰ ਆਏ,
ਕਰਨ ਬੇਨਤੀ ਖੜੇ ਉਹ ਅੱਡ ਪੱਲੇ ।
ਸੁਣ ਬੇਨਤੀ ਗੁਰੂ ਗੰਭੀਰ ਹੋਏ,
ਮਨ ਵਿਚ ਖ਼ਿਆਲ ਦੁੜਾਂਵਦੇ ਨੇ ।
ਨੱਥ ਜ਼ੁਲਮ ਨੂੰ ਕਿਸ ਤਰ੍ਹਾਂ ਪਾਈ ਜਾਵੇ,
ਕਈ ਤਰ੍ਹਾਂ ਦੇ ਹੱਲ ਅਜਮਾਂਵਦੇ ਨੇ ।
ਸੰਗਤ ਸੋਚਦੀ, ਗੁਰੂ ਕੀ ਸੋਚਦੇ ਨੇ,
ਆਪੋ ਆਪਣੇ ਕਿਆਸ ਲਗਾਂਵਦੇ ਨੇ ।
ਥੋੜ੍ਹਾ ਸਮਾਂ ਲੰਘਾ ਚਿਹਰਾ ਸ਼ਾਂਤ ਦਿੱਸੇ,
ਗੁਰੂ ਸੰਗਤ ਨੂੰ ਇਉਂ ਫ਼ੁਰਮਾਂਵਦੇ ਨੇ ।
"ਅਸਾਂ ਸੋਚ ਵਿਚਾਰ ਕੇ ਵੇਖ ਲਿਆ,
ਜ਼ੁਲਮੀ-ਨਦੀ ਸਾਹਵੇਂ ਠਾਠਾਂ ਮਾਰ ਰਹੀ ਏ ।
ਕੋਈ ਆਕੇ ਇੱਥੇ ਕੁਰਬਾਨ ਹੋਵੇ,
ਚਿਹਰਾ ਲਾਲ ਕਰ ਮੂੰਹੋਂ ਲਲਕਾਰ ਰਹੀ ਏ ।
ਇਹਨੇ ਸਾਰਾ ਹੀ ਮੁਲਕ ਹੜੱਪ ਜਾਣਾ,
ਨਿੱਤ ਡੈਣ ਜਿਉਂ ਮੂੰਹ ਪਸਾਰ ਰਹੀ ਏ ।
ਦਿੱਲੀ ਜਾ ਕੇ ਅਸਾਂ ਨੇ ਸਿਰ ਦੇਣਾ,
ਸਾਨੂੰ ਦਿੱਸੇ ਸ਼ਹੀਦੀ ਪੁਕਾਰ ਰਹੀ ਏ ।"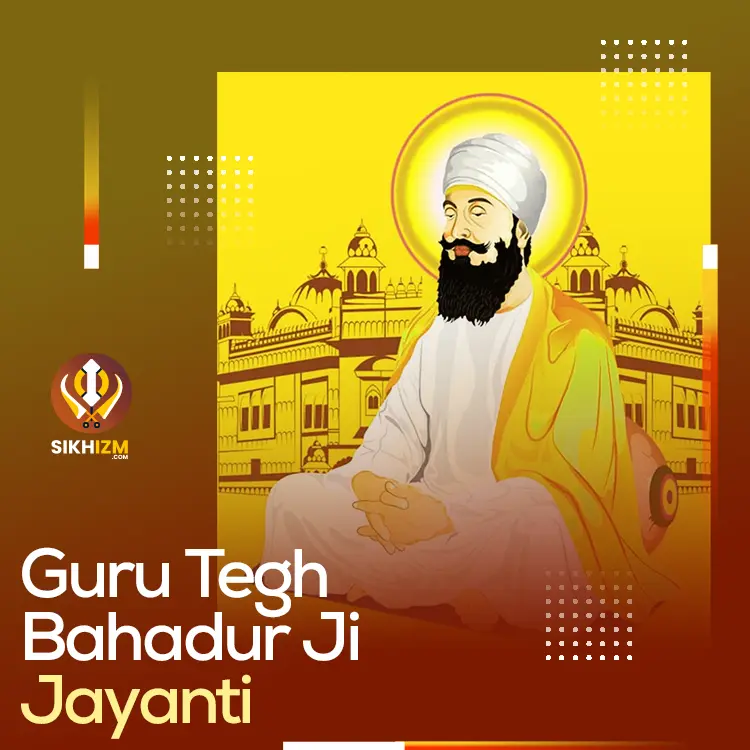 ਬਾਂਹਿ ਜਿਨ੍ਹਾਂ ਦੀ ਪਕੜੀਐ
ਸਿਰ ਦੀਜੈ ਬਾਂਹਿ ਨ ਛੋੜੀਐ।
ਤੇਗ ਬਹਾਦਰ ਬੋਲਿਆ
ਧਰ ਪਈਏ ਧਰਮ ਨ ਛੋੜੀਐ।
ਸਾਡੇ ਸਤਿਗੁਰ ਤੇਗ ਬਹਾਦਰ
ਦੁਖੀਏ ਚੱਲ ਕੇ ਆਏ ਗੁਰ ਘਰ।
ਸਹਿ ਨਹੀਂ ਹੁੰਦਾ, ਹੋਰ ਨਿਰਾਦਰ।
ਜ਼ੁਲਮ ਦੀ ਹੱਦ ਨੂੰ ਜ਼ਾਲਮ ਭੁੱਲਾ,
ਪਰ ਸਾਡੇ ਸਿਰ, ਧਰਮ ਦੀ ਚਾਦਰ।
ਇੱਕੋ ਇੱਕ ਸਹਾਰਾ ਬਚਿਆ,
ਸਾਡੇ ਲਈ ਗੁਰੂ ਨਾਨਕ ਦਾ ਦਰ ।
ਦਿੱਲੀ ਵੱਲ ਰਵਾਨਾ ਹੋਏ,
ਦੀਨ ਦੁਖੀ ਦੇ ਵਾਲੀ ਸਤਿਗੁਰ।
ਜ਼ੁਲਮ ਦਾ ਆਰਾ ਚੱਲਦਾ ਦੇਖ ਕੇ,
ਗੁਰਸਿੱਖਾਂ ਬਿਨ, ਸਭ ਗਏ ਘਾਬਰ ।
ਸੱਚ ਸਤੀ ਵੀ ਹੁੰਦਾ ਤੱਕਿਆ,
ਰੂੰ ਦੇ ਮੱਚਦੇ ਭਾਂਬੜ ਅੰਦਰ ।
ਦੇਗ ਦਿਆਲਾ ਇਕਮਿਕ ਹੋ ਗਏ,
ਇਸ ਤੋਂ ਹੋਰ ਕੀ ਹੋਣਾ ਬਿਹਤਰ ?
ਤੇਗ ਦੇ ਸਾਹਵੇਂ ਸੀਸ ਨਾ ਝੁਕਿਆ,
ਧੰਨ ਗੁਰ, ਧੰਨ ਗੁਰ ਤੇਗ ਬਹਾਦਰ ।
ਦੇਖ ਸ਼ਹਾਦਤ ਕੰਬ ਗਏ ਸੀ,
ਇਹ ਜੱਗ ਸਾਰਾ, ਧਰਤੀ ਅੰਬਰ ।
ਧਰਮ ਦੀ ਖਾਤਿਰ, ਸੀਸ ਕਟਾ ਕੇ,
ਕਰਨਾ ਦੱਸਿਆ , ਧਰਮ ਦਾ ਆਦਰ।
ਹਿੰਦੂ, ਮੁਸਲਿਮ, ਸਿੱਖ, ਈਸਾਈ
ਸਭ ਦਾ ਮਾਲਕ, ਇੱਕੋ ਰਾਹਬਰ।
ਮਾਨਵ ਧਰਮ ਹੀ, ਸਰਵੋਤਮ ਹੈ,
ਮਾਨਵਤਾ ਦੀ, 'ਜੀਤ' ਮੁਤਾਸਿਰ ।
Wish you all a very Happy Guru Tegh Bahadur Jayanti. May Guru bless you and your family members with a blissful life filled with the light of Guru Sahib's Wisdom through his words.
The Review
401st Guru Tegh Bahadur Parkash Gurpurab
Guru Tegh Bahadur Jayanti 2023: Celebrate the Parkash Gurpurab of 9th Sikh Guru Tegh Bahadur Ji Maharaj with Images, Quotes, Poetry, Wishes
Review Breakdown
History Explained

HD Graphics

Poetry

Quotes