Sikh Misls and Their Founders
Did you know who were the founders of the 12 Sikh Misls of Khalsa Raj? First, we'll discuss how the misls came into existence. There was a time when only Panj Pyare used to represent the entire Khalsa Panth. They would sit in the Hazuri of Guru Granth Sahib to pass the judgments in form of Gurmatta. If there occurs any dispute between Sikhs, Panj Pyare would intervene to resolve the issue firsthand, and both parties would accept their judgments with complete devotion. The passed resolutions would virtually become the policy of the whole Panth which becomes binding on all.
After 1733, 2 Jathas came into light named Budha Dal and Taruna Dal, wherever Sikh Sangat gathered under Sarbat Khalsa meeting. In the coming 15 years, Dal Khalsa got split into 12 Misls: which are given below with the name of their Head chiefs.
| Sr. No | Name of Misl | Name of Founder |
| --- | --- | --- |
| 1 | Bhangi Misl | Bhai Bhuma Singh and His Son Bhai Hari Singh |
| 2 | Nishan Walia | Bhai Dasaundha Singh |
| 3 | Shaheed Misl | Baba Bir Singh and Baba Deep Singh |
| 4 | Ramgarhia Misl | Bhai Hardas Singh and then S. Jassa Singh Ramgarhia |
| 5 | Nakai Misl | Bhai Hira Singh, Bhai Natha Singh |
| 6 | Ahluwalia Misl | S. Jassa Singh of village Ahlu |
| 7 | Kanhaiya Misl | S. Khushal Singh, S. Jai Singh |
| 8 | Faizalpuria, Singhpuria | Nawab Kapur Singh |
| 9 | Dalewalia | S. Gurdial Singh of village Dalewal |
| 10 | Shukarchakia | S. Charhat Singh of village Shukarchuck |
| 11 | Crore Singhia | S. Krora Singh, S. Baghel Singh |
| 12 | Phulkian Misl | Phul Singh, Baba Ala Singh |
Sikh Misls Meaning?
Many authors expound that "Misl is an Arabic word which means "equal" or "alike" According to the Sikh religion, all the Sikhs are absolutely equal, and hence, in times of peace and all social matters all the members of a particular Misl claimed complete equality, with everyone including the Chief. Of course, the Sardar was obeyed only when there was war but there was no such obligation for the people to obey him beyond that Emergency.
Payen, therefore, says: "As members of such a Jatha or group conferred political, religious and social equality on all its members, they began to be designed as "MISLS".
Without any disputation on the superior sense of their determining the import of the controversial term "Misl", we feel, the term is equally a derivative from the Arabic word MUSALSAL chained together and MISAAL – Fermaan-e-Badshahi – royal-edict i.e., an assembly or group of militarised persons with no sex discrimination. Here Khalsa comes close with one and centralized aim and ideal here to librate, by all means feasible; or unfeasible, their homeland from Turk hegemony and establish Paaishahi- Khalsa Raaj carrying out and obeying MASAAL – the code, dogma" doctrine laid down in the Misal commonly day-to-day used word for English term 'file', a contrivance to hold together papers or documents embodying royal – hare Jathedaar's orders or Hukamnamhas roving about from department to department.
Thus, to sum up, this peculiar controversial Sikh politico-military term is derivative of more than one Arabic word — MUSALSAL — chained together, MASAAL — royal edict-fermaan-badshahi", Misal — Maanand equal; self-exemplifying and qualifying, and Misal a paper keeping device.
Achievement of Sikh Misls
This all is indicative of our great leaders — Khalsa Jeo's superlative wisdom and scholarship in Arabic philology to coin a term which is unparalleled in its inimitability by others till they develop spiritual, political, social, and ethical excellence which the Khalsa Mhaldaars and members of each Misl had attained.
The political ambitions — Raj Karega Khalsa – Khalsa Shall Rule of the Sikh Misl or the Sarbat Khalsa did not contain even with the carving of great principalities by each Misl till one day they succeeded to claim or occupy the covetous Mughal Throne of Delhi in 1783 under the leadership of Sardar Jassa Singh Ahluwalia and Sardar Jassa Singh Ramgarhia, the formidable duo, when on March 11, 1753, a memorable day of the Sikh history, they occupied Dewan-e-Aam when tottering Shah Aalam and his courtiers hid themselves apprehending plunder of the capital by the Khalsa Army in the event of an offensive by the Mughal troops.
Sikh Misls Name in Punjabi
ਭੰਗੀ ਮਿਸਲ
ਨਿਸ਼ਾਨਵਾਲੀਆ ਮਿਸਲ
ਸ਼ਹੀਦ ਮਿਸਲ
ਰਾਮਗੜ੍ਹੀਆ ਮਿਸਲ
ਨਕਈ ਮਿਸਲ
ਆਹਲੂਵਾਲੀਆ ਮਿਸਲ
ਕਨ੍ਹੱਈਆ ਮਿਸਲ
ਫ਼ੈਜ਼ਲਪੁਰੀਆ ਜਾਂ ਸਿੰਘਪੁਰੀਆ ਮਿਸਲ
ਡੱਲੇਵਾਲੀਆ ਮਿਸਲ
ਸ਼ੁੱਕਰਚੱਕੀਆ ਮਿਸਲ
ਕਰੋੜ ਸਿੰਘੀਆ ਮਿਸਲ
ਫੂਲਕੀਆਂ ਮਿਸਲ
Sikh Misls Meaning in Hindi
एक समय था जब केवल पंज प्यारे ही पूरे खालसा पंथ का प्रतिनिधित्व करते थे। वे गुरमत्ता के रूप में निर्णय पारित करने के लिए गुरु ग्रंथ साहिब के हजूरी में बैठते और यदि सिखों के बीच कोई विवाद होता है, तो पंज प्यारे ही मुद्दे को हल करने के लिए हस्तक्षेप करते और दोनों पक्ष पूरी निष्ठा के साथ उनके किए फैसले को स्वीकार भी कर लेते। समय बीतने पर पंज प्यारों द्वारा पारित संकल्प वस्तुतः पूरे पंथ की नीति बन जाया करते जिनका सारी सिख संगत निष्ठा के साथ पालन करती।
1733 के बाद, सरबत खालसा की बैठकों में सिख बूढ़ा दल व तरुणा दल में बँट गए लेकिन उनका संकल्प एक ही रहा । आने वाले 15 वर्षों में दल खालसा 12 मिस्लों में विभाजित हो गया, जिनके नाम निम्नलिखित हैं:
भंगी मिस्ल
निशानवालिया मिस्ल
शहीद मिस्ल
रामगढ़िया मिस्ल
नकई मिस्ल
आहलूवालिया मिस्ल
कन्हैया मिस्ल
फैजलपुरिया या सिंहपुरिया मिस्ल
डल्लेवालिया मिस्ल
शुकरचकिया मिस्ल
करोड़सिंघीया मिस्ल
फुलकियाँ मिस्ल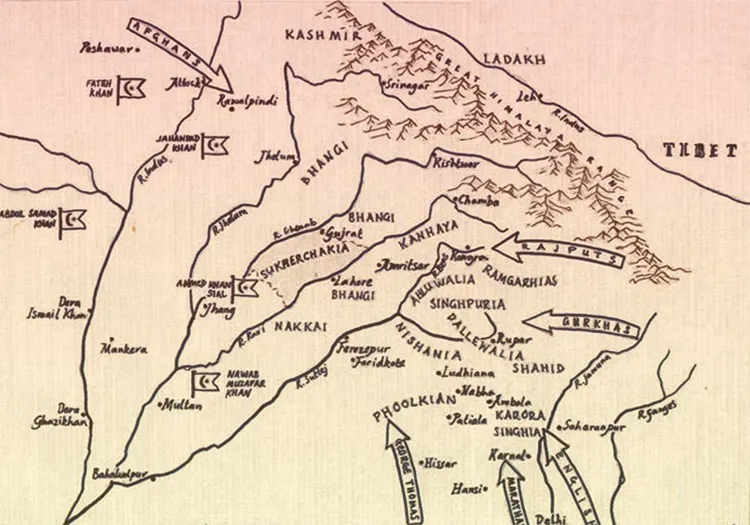 The Review
12 Sikh Misls and Their Founders
12 Sikh Misls and Founders: During the 1750s Dal Khalsa got split into 12 Misls: which are given below with the name of their Head chiefs.