Happy Hola Mohalla 2023: The Sikh Version of Holi is called Hola Mohalla, and it was begun in 1701* by Guru Gobind Singh. He organized events such as military exercises, sports, music, and poetry competitions.
| | |
| --- | --- |
| Event | Hola Mohalla 2023 |
| Date CE | March 8th, 2023 |
| Nanakshahi Date | 24 Phagun, 554 |
| Day | Wednesday |
| Images Count | 3 |
| Content | Hola Mahalla, Holi, Hola, Hola Mohalla |
Hola Mahalla
The festival of Hola Mohalla, which means "the place to attack", is celebrated in February or March at about the same time as the great Hindu spring festival of Holi. Hola Mohalla is a Jore Mela, a colorful, lively time in the Sikh calendar.
How did Hola Mohalla begin?
Hola Mohalla was begun in 1701 in the town of Anandpur, in northern India, by Guru Gobind Singh the 10th Sikh Guru. He felt that the Hindu festival of Holi had become too frivolous and decided that the Sikhs should have their own festival on the day after Holi. He summoned the Sikhs together to practice the military skills they needed to defend their faith against the Mughal Rulers. They brought their weapons, fought mock battles, and took part in military drills and parades as if they were on a real battlefield. In the end, Guru Gobind Singh led an attack on a model castle.
Hola Mohalla Significance
"Hola-Mohalla" is a unique festival, a symbol of martial arts, pride, freedom, and rising art. Forgetting the significance of Holi, the people who had been celebrating Holi for centuries had lost their pride, had accepted the slavery of the tyrant Mughal government.

At that time no one could keep a weapon, no one could wear a turban on his head, no one could hunt and there was a perception in him that
ਕੰਮ ਹਮਾਰਾ ਤੋਲਣ ਤੱਕੜੀ।
ਨੰਗੀ ਕਰਦ ਕਦੇ ਨਹੀਂ ਪਕੜੀ।
ਚਿੱੜੀ ਉੱਡੇ ਤਉ ਹਮ ਡਰ ਜਾਏਂ।
ਦੁਸ਼ਮਣ ਸੇ ਕੈਸੇ ਲੜ ਪਾਏਂ।
Guru Gobind Singh initiated the Hola Mohalla festival to embody the immense strength of fighting the enemy with courage by taking up arms in such cowardly people. Same people began to hunt Lions after a while, such was the strategy of Guru Gobind Singh to fight the injustice.
ਅਉਰਨ ਕੀ ਹੋਲੀ – ਮਮ ਹੋਲਾ। ਕਿਰਪਾ ਨਿਧਿ ਕਹਿਓ ਬਚਨ ਅਮੋਲਾ।
Celebrating Hola Mohalla
Today, Hola Mohalla is mainly celebrated in Anandpur, where it began. Thousands of Sikhs gather there to take part in the festival. After a morning service in the Gurudwara, there are displays of martial arts and sporting contests, such as swordsmanship, archery, wrestling matches, and horse riding.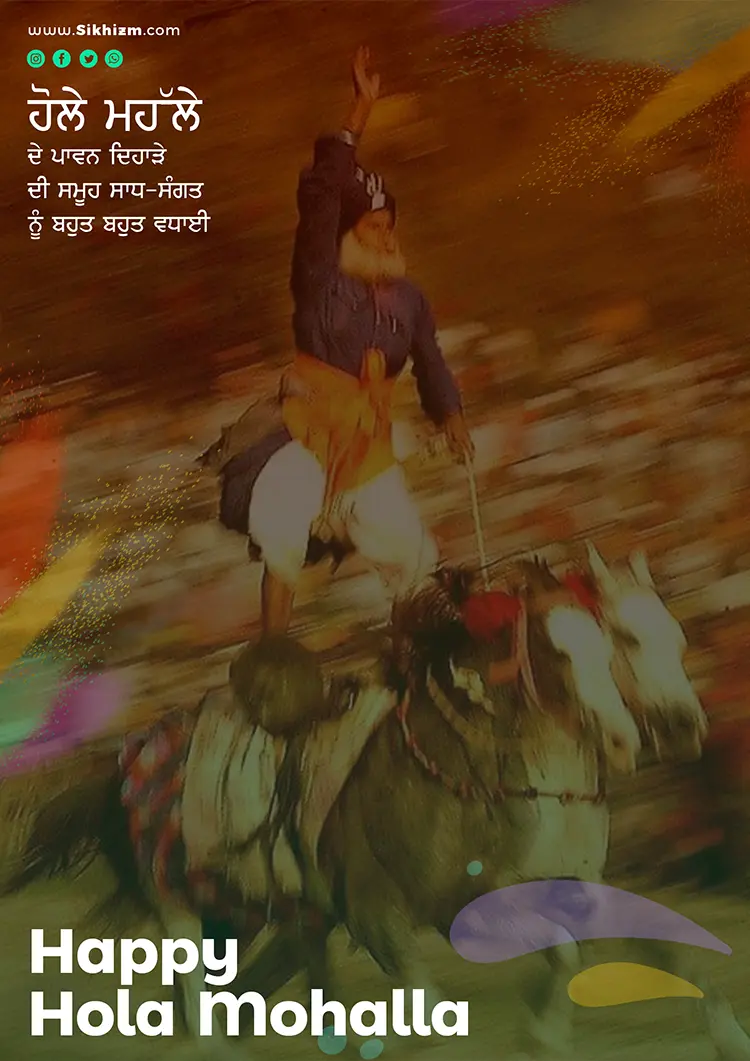 These are followed by music and poetry competitions. Hymn singing and religious talks take place in the presence of Guru Granth Sahib. There is also a great parade led by Sikhs dressed as the Panj Pyare carrying the flags of the local Gurudwaras. Hola Mohalla is also celebrated in Britain, the United States, and Canada.
ਖਾਲਸਾਈ ਜਾਹੋ-ਜਲਾਲ ਦੇ ਪ੍ਰਤੀਕ ਹੋਲੇ-ਮਹੱਲੇ ਦੀਆਂ ਸਮੂਹ ਸੰਗਤ ਨੂੰ ਲੱਖ-ਲੱਖ ਵਧਾਈਆਂ।
ਹੋਲੇ-ਮਹੱਲੇ ਦੀ ਪਰੰਪਰਾ ਦਸ਼ਮੇਸ਼ ਪਿਤਾ ਸ੍ਰੀ ਗੁਰੂ ਗੋਬਿੰਦ ਸਿੰਘ ਜੀ ਦੁਆਰਾ ਸਿੱਖ ਕੌਮ ਅੰਦਰ ਭਗਤੀ ਤੇ ਸ਼ਕਤੀ ਦੇ ਸਰਬੋਤਮ ਸੁਮੇਲ ਅਤੇ ਸ਼ਸਤਰ ਦੇ ਉੱਤਮ ਪ੍ਰਯੋਗ ਦਾ ਸੰਕੇਤਕ ਪ੍ਰਗਟਾਵਾ ਹੈ।
*We Wish Happy Hola Mohalla 2022 to All Sikh Sangat Across the Globe*
*1701 is disputed among scholars. Some say the Guru initiated tradition in 1680. But I personally believe that Guru Ji was only 14 years old at that time and that doesn't seem correct. Another year is given as 1700 which is close to 1701.
To Read Detailed Views on Holi vs Hola Mohalla, you can download the PDF of the below Article.
"ਲੋਕਾਂ ਦੀ ਹੋਲੀ ਅਤੇ ਸਿੰਘਾਂ ਦਾ ਹੋਲਾ ਮਹੱਲਾ" By AVTAR SINGH MISSIONARY
Hola Mohalla WahtsApp Status Video
The Review
Hola Mohalla Anandpur Sahib
The festival is celebrated for three consecutive days, in which members of the Sikh community display their physical strength by performing dare-devil acts like bareback horse-riding, standing erect on two speeding horses, Gatka (mock encounters), tent pegging, etc. This is followed by music and poetry competitions to lighten the charged-up atmosphere.
Review Breakdown
Information

Image Quality