Guru Harkrishan Parkash Purab
Parkash Gurpurab of Eighth Sikh Guru Sri Guru Harkrishan Sahib Ji is to be celebrated on July 11th, 2023, Tuesday.
Guru Harkrishan Ji is also known as the Bal Guru (Child Guru). He was the youngest of all Gurus having attained that status at the tender age of five. His span of guruship was also the shortest. Guru Harkrishan is indeed an example that spirituality, as an experience, is independent of age. His personality can be summarized in the words of Guru Gobind Singh who later wrote that he is one "whose sight dispels all discomforts" ( Jis Dithe Sab Dukh Jaye )
| Parkash Gurpurab (Birthday) | Date CE | Sikh Calendar |
| --- | --- | --- |
| Guru Harkrishan Sahib Ji | July 11, 2023 | Haarh 27, 555 Nanakshahi |
Contribution of Guru Harkrishan to Sikhi
The Guru nurtured Sikhism. He maintained the traditions of Sikh Gurus and strengthened the spirit of self-sacrifice, truthfulness, and fearless resolve. He stressed social reforms like the eradication of female infanticide. But more than anything, he facilitated the choice of his successor. Guru Harkrishan was the younger son of Guru Har Rai. He was born at Kiratpur on July 7th, 1656 A.D. Guru Har Rai had remarked at his birth, "He will do what no one else can do." He was brought up under the direct supervision of Guru Har Rai. As such, he imbibed the style and qualities of Guru Har Rai.
Mischiefs of Ram Rai
Ram Rai, the elder brother of the Guru had displeased Guru Har Rai by showing miracles in Aurangzeb's court and by changing the text of a line of the Adi Granth. Because of this, Guru Har Rai nominated Guru Harkrishan as his successor in October 1661 A.D.
This was not liked by Ram Rai. He started hatching conspiracies first with Masands and later on with Aurangzeb. He ultimately succeeded in persuading Aurangzeb to call the Guru to Delhi. The Guru did come to Delhi in 1663 A.D. but refused to meet Aurangzeb to keep up his resolve on the lines of that of Guru Har Rai. The place where the Guru stayed in Delhi used to be the bungalow of Mirza Raja Jai Singh. It has now been converted into the famous gurdwara Bangla Sahib.
The Guru spent a few months in Delhi. During those days an epidemic broke out. The Guru got busy nursing the sick. He even went to poor colonies. He himself was taken ill and passed away on March 30, 1664 A.D. But before breathing his last he said: "Baba Bakale" i.e. the next Guru was in Bakala.
The Guru was cremated in Delhi on the banks of Yamuna at the place where now stands the historic Gurdwara Bala Sahib.
Guru Harkrishan Sahib Birthday 2023 Wishes (Images)

Sri Guru Harkrishan Sahib Ji Parkash Gurpurab 2023 Image
In his Var Sri Bhagauti, Guru Gobind Singh, the Tenth Master, acknowledged the greatness of Guru Har Krishan
who spent his energies and time in the service of the sick and suffering humanity. He says that the Sikhs should meditate on the holy Har Krishan, whose sight alone dispelled all sorrows :
"Sri Har Krishan Dhiayiye,
Jis Ditthai Sabh Dukh Jaye."
Bhai Nand Lal Goya Ji's Poem on Guru Harkrishan
Renowned Poet at the Court of Guru Gobind Singh Ji has praised the 8th Physical Embodiment of Guru Nanak in the following lines:
Guru Har Krishan aan hamaa fazlo jood
Haqush az hamaa khasgaan ba-satood.
(Guru Har Krishan is an embodiment of grace and benedictions. He is counted among the closest persons of God and is most highly admired of them.)
Myane haqqo oo fasalul work
Wajudash hamaa fazlo afzaley haqq
(Thin partition, say of a petal, divides the Lord Almighty and Guru Har Krishan. His very existence reflects the entire graciousness and favors of God.)
Hamaa sayeley lutf haqq parwarsh
Zamino Zamaan jumla farmaan-barsh.
(All creations beg for his divine favor He protects and provides for them. The entire universe and Time obey his commands.)
Tuffailesh do alam khud kamyab
Ajo gashta har zarra Khurshid taab.
(His graciousness grants fulfillment in both worlds and lends luster to every particle through the rays of the sun.)
Hamaa Khasgaan ra kafey ismtash
Sra ta samaa jumla farmaan barsh.
(His protective umbrella is a blessing for all the chosen disciples. His writ runs overall from the planets to the underground world.)
Parkash Gurpurab Sri Guru Harkrishan 2023 Wishes Image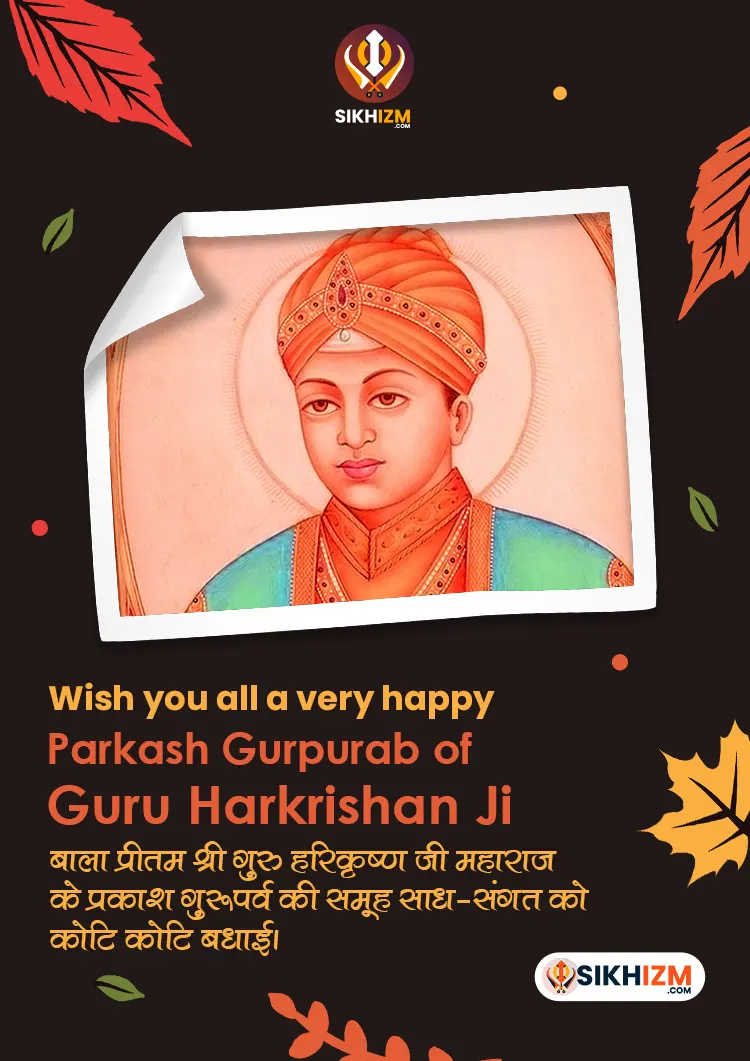 "ਗੁਰੂ ਹਰਿਕ੍ਰਿਸ਼ਨ ਸਾਹਿਬ ਜੀ" - A Poem by Babu Firozdin Sharf Ji
ਗੱਲਾਂ ਵੱਡੀਆਂ ਵੱਡੀਆਂ ਉਮਰ ਛੋਟੀ,
ਨਾਫ਼ੇ ਵਾਂਙ ਖ਼ੁਸ਼ਬੋ ਖਿਲਾਰ ਦਿੱਤੀ ।
ਚਾਰ ਚੰਦ ਗੁਰਿਆਈ ਨੂੰ ਲਾਏ ਸੋਹਣੇ,
ਸਿੱਖ ਪੰਥ ਦੀ ਸ਼ਾਨ ਸਵਾਰ ਦਿੱਤੀ ।
ਜਿੱਧਰ ਨਿਗ੍ਹਾ ਪਵਿੱਤਰ ਦੇ ਬਾਣ ਛੱਡੇ,
ਓਸੇ ਪਾਸਿਓਂ ਫ਼ਤਹ ਕਰਤਾਰ ਦਿੱਤੀ ।
ਮੁੜੀਆਂ ਸੰਗਤਾਂ ਪਿਛ੍ਹਾਂ ਪੰਜੋਖਰੇ ਤੋਂ,
ਲੀਕ ਸਿਦਕ ਦੀ ਆਪ 'ਜਹੀ ਮਾਰ ਦਿੱਤੀ ।
ਗੀਤਾ ਅਰਥ ਸੁਣਵਾ ਕਹਾਰ ਕੋਲੋਂ,
ਪੰਡਤ ਹੋਰਾਂ ਦੀ ਤੇਹ ਉਤਾਰ ਦਿੱਤੀ ।
ਪਟਰਾਣੀ ਦੇ ਖੋਲ੍ਹ ਕੇ ਪੱਟ ਦਿਲ ਦੇ,
ਬੈਠ ਪੱਟ ਤੇ ਅੰਸ਼ ਦਾਤਾਰ ਦਿੱਤੀ ।
ਜੇੜ੍ਹੇ ਆਏ ਅਜ਼ਮਾਇਸ਼ਾਂ ਕਰਨ ਵਾਲੇ,
ਬਾਜ਼ੀ ਜਿੱਤ ਕੇ, ਉਨ੍ਹਾਂ ਨੂੰ ਹਾਰ ਦਿੱਤੀ ।
ਸ਼ਰਨ ਆ ਗਿਆ ਦਿਲੋਂ ਜੇ ਕੋਈ ਪਾਪੀ,
ਭੁੱਲ ਓਸ ਦੀ ਮਨੋਂ ਵਿਸਾਰ ਦਿੱਤੀ ।
ਪਾਣੀ ਆਪਣੇ ਖੂਹੇ ਦਾ ਖੋਲ੍ਹ ਕੇ ਤੇ,
ਬੇੜੀ ਡੁੱਬਦੀ ਦਿੱਲੀ ਦੀ ਤਾਰ ਦਿੱਤੀ ।
'ਸ਼ਰਫ਼' ਨਿੱਕੀ ਜਹੀ ਉਮਰ ਵਿਚ ਗੁਰੂ ਜੀ ਨੇ,
ਬਰਕਤ ਸੰਗਤਾਂ ਨੂੰ ਬੇਸ਼ੁਮਾਰ ਦਿੱਤੀ ।
The Review
Guru Harkrishan Sahib Ji Parkash Gurpurab 2023
On this pious day, Guru Harkrishan Ji incarnated at the house of Guru Har Rai Ji. The 8th Nanak, Guru Harkrishan Sahib Ji is known as 'the healer of all wounds & pain of Life'.
Review Breakdown
History Explained

HD Images

Quotes and Poetry