Gurgaddi Purab Guru Angad Dev Ji
Guru Angad Dev Ji Gurgaddi Diwas 2022 is to be celebrated on September 15th, 2022 Thursday. This Gurpurab marks the Day when Guru Nanak Sahib Ji handed over his spiritual throne to his beloved Sikh Bhai Lehna Ji and named him Guru Angad.
| Gurgaddi Gurpurab (Guruship) | Date CE | Sikh Calendar |
| --- | --- | --- |
| Guru Angad Dev Ji | September 15th, 2022 | Bhadon 30th, 554 Nanakshahi |
Guru Nanak Passed Gurgaddi to Guru Angad
Guru Nanak Sahib's stay at Kartarpur, in the last part of his life, was important in more than one aspect. It was here that he found the second Guru of the Sikhs, whom the world knows as Guru Angad.
Guru Angad's real name was Baba Lehna. He was born on March 31 in 1504 A.D. He was the son of Pheru Mal, a trader at Ferozepur. Baba Lehna first heard of Guru Nanak from Bhai Jodha who always sang hymns of the Guru. He was so touched by the songs that he decided to go to Kartarpur and meet the holy man. Guru Nanak invited him to live with them at Kartarpur. Baba Lehna arrived the very next day and spent the entire night doing all odd jobs in complete acceptance, silence, and devotion.
Disciples under test
Guru Nanak, however, made all his disciples undertake a test and the most worthy of them was to be made his successor. And so one day he put on dirty clothes, took an open knife in his hand and went to the forest. His puzzled disciples followed him and found silver coins on the way. Some left him after collecting them; a few others followed him further and found gold coins scattered on the way. They picked them up and rejoicingly returned home.
Only two Sikhs besides Baba Lehna followed him still further. There they saw a funeral pyre with a dead body beside it. Guru Nanak asked his disciples to eat the corpse if they wished to accompany him. Those present flinched at the terrible idea and only Baba Lehna came forward, asking which part he should begin with.
Passed Gurgaddi to Bhai Lehna
Guru Nanak was very pleased with Baba Lehna and blessed him saying that only he had understood and believed that he was a part or 'Ang' of his Guru's body. On September 7, 1539, the Guru assembled the Sikhs, seated Angad on his throne, placed a coconut and five paise before him, and made him his successor. He named Baba Lehna 'Guru Angad' from then on, since he had proved that he was a part and image of the Guru's own body. The Guru then ordered his people to obey, and serve Angad with the same devotion with which they had served him since he was a living image of the Guru himself. He had displayed the three cardinal principles of complete and unshakable devotion and obedience to the Guru; the dignity of labor; and love for humanity.
The Guru said, "Guruship is a position which depends on self-sacrifice, and Angad has exhibited this virtue in the highest degree. His sincere devotion and extreme humility have won him this honor."
ਲਹਣੇ ਧਰਿਓਨੁ ਛਤੁ ਸਿਰਿ ਕਰਿ ਸਿਫਤੀ ਅੰਮ੍ਰਿਤੁ ਪੀਵਦੈ ॥
ਮਤਿ ਗੁਰ ਆਤਮਦੇਵ ਦੀ ਖੜਗਿ ਜੋਰਿ ਪਰਾਕੁਇ ਜੀਅ ਦੈ ॥

He installed the royal canopy over Lehna's head; chanting the Lord's Praises, He drank in the Ambrosial Nectar. The Guru implanted the almighty sword of the Teachings to illuminate his soul.
Despite hearing the Guru's reasons, his sons were displeased at being superseded by Angad. However, after appointing him his successor the Guru directed Angad to return to Khadur. A short time after this, Guru Nanak departed from this life.
Guru Angad – True Light of Guru Nanak's wisdom
ਗੁਰ ਅੰਗਦ ਦੀ ਦੋਹੀ ਫਿਰੀ ਸਚੁ ਕਰਤੈ ਬੰਧਿ ਬਹਾਲੀ ॥
Guru Angad was aware that Guru Nanak had asked him to shift to Kartarpur because he wanted to avert a conflict between him and his two sons, Lakshmi Chand and Sri Chand. After the Guru had appointed Angad as his successor, there had been some dissent in the Guru's family. Although he moved to Kartarpur as per Guru Nanak's instructions, Guru Angad still felt lost without him and missed him a lot. But he knew that he had a huge responsibility and so he immersed himself in the service of the Sikhs.
The Guru-ka-langar was soon started, and his wife helped him in cooking food for the people. Gradually, the small group of Sikhs in Khadur began helping in the langar and so it was well-maintained. Guru Angad also helped the poor and the needy in every way he could. In no time, the Sikh community began to grow under the spiritual guidance of Guru Angad. The people lived in harmony and brotherhood.
Guru Angad religiously passed on the teachings of Guru Nanak and spread his light far and wide. More and more people came to hear him and to become his followers. However involved he was in his work, Guru Angad always found time for his meditation.
Download Wallpapers of Guru Angad Dev Ji Gurta Gaddi Purab 2022
Download HD
ਲਹਣੇ ਦੀ ਫੇਰਾਇਐ ਨਾਨਕਾ ਦੋਹੀ ਖਟੀਐ॥
ਜੋਤਿ ਓਹਾ ਜੁਗਤਿ ਸਾਇ ਸਹਿ ਕਾਇਆ ਫੇਰਿ ਪਲਟੀਐ।
Nanak proclaimed Lehna's succession – he earned it.
They shared the One Light and the same way; the King just changed His body.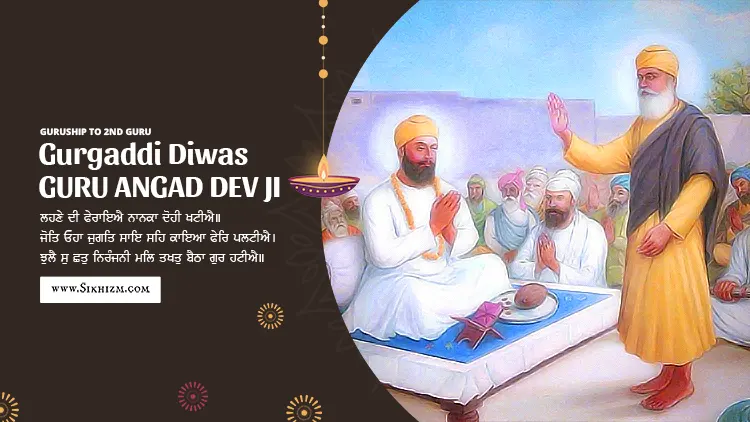 ਲਹਣੇ ਧਰਿਓਨੁ ਛਤ੍ਰੁ ਸਿਰਿ ਅਸਮਾਨਿ ਕਿਆੜਾ ਛਿਕਿਓਨੁ ॥
ਜੋਤਿ ਸਮਾਣੀ ਜੋਤਿ ਮਾਹਿ ਆਪੁ ਆਪੈ ਸੇਤੀ ਮਿਕਿਓਨੁ ॥

He raised the royal canopy to wave over the head of Lehna, and raised His glory to the skies. His Light merged into the Light, and He blended Him into Himself.
ਸਤਸੰਗਤਿ ਸਹਜ ਸਾਰਿ ਜਾਗੀਲੇ ਗੁਰ ਬੀਚਾਰਿ ਨਿੰਮਰੀ ਭੂਤ ਸਦੀਵ ਪਰਮ ਪਿਆਰਿ ॥
ਕਹੁ ਕੀਰਤਿ ਕਲਸਹਾਰ ਸਪਤ ਦੀਪ ਮਝਾਰ ਲਹਣਾ ਜਗਤ੍ਰ ਗੁਰੁ ਪਰਸਿ ਮੁਰਾਰਿ ॥੨॥
The Sat Sangat, the True Congregation, is celestial and sublime; whoever remains awake and aware, contemplating the Guru, embodies humility, and is imbued forever with the Supreme Love of the Lord. O Kalashaar (Bhatt Kalashaar), chants the Praises of Lehnaa throughout the seven continents; He met with the Lord and became Guru of the World.
Wish you all a Very Happy Gurugaddi Gurpurab of 2nd Patishahi Sri Guru Angad Dev Ji.
Waheguru Ji Ka Khalsa, Waheguru Ji Ki Fateh!!
The Review
Guru Angad Dev Ji - Gurgaddi Gurpurab 2022
Read the history behind the passing of Guruship to Guru Angad by Guru Nanak Sahib Ji, Download Images and Quotes to Share with your friends, absolutely free.
Review Breakdown
History Explained

Quality Images

Gurbani Quotes

Free Downloads