Bandi Chhor Divas 2021 Date
Bandi Chhor Divas was celebrated on Diwali 2021 Dated November 4th, 2021 accordingly Bikrami Samvat 19th Katak 2078, 19th Katak Nanakshahi Samvat 553, 13th Kartik Saka Samvat 1943.
| | |
| --- | --- |
| Bandi Chhor Divas Date 2021 | 4th November 2021 |
| Day | Thursday, Kartik Vadi 30th |
| Nanakshahi Date | 19th Katak 553 |
Bandichhod Diwas was celebrated on Diwali 2021 Dated November 4th, 2021 accordingly Bikrami Samvat 19th Katak 2078, 19th Katak Nanakshahi Samvat 553, 13th Kartik Saka Samvat 1943.
History of Bandi Chhor Divas
Fearing the power practices of Sri Guru Hargobind Sahib Ji, Jahangir passed an order to arrest the Guru and to be detained in the Gwalior fort where royal prisoners were held. Before the arrival of the Guru in the fort, 52 Kings were already confined in the fort by Jahangir.
After the entry of the Guru in the fort, the Guru started to hold morning and evening congregations. Due to that Rajas and Wardens began to get spiritual bliss while the Sikhs outside the fort got restless for the glimpse of their Guru. Saints like Saint Mian Mir raised their voices against this injustice.
At the bidding of Begum Noor Jahan, Jahangir issued orders for the release of the Guru. Before leaving the fort, the Guru put forward a condition that the detained Rajas be also released along with him. Jahangir said, "The Rajas who take hold of the corner of the Guru's dress will be released." The deliverer Guru donned a gown made with fifty-two corners and got all the Rajas released.

Importance of Bandi Chhor Day
While Vaisakhi is a big day in the Sikh calendar and celebrated all over the world because of its association with the founding of the Khalsa Panth, the celebration of Diwali is mainly confined to Harmandir Sahib, Amritsar. It is on this day that Jahangir, the Mughal emperor, released Guru Hargobind Sahib Ji, the sixth Guru, from Prison after five years of incarceration for refusing to renounce his faith. Guru Hargobind had refused an earlier release until fifty-two Hindu princes imprisoned with him were also set free.
Guru Hargobind is known as Bandi Chhor, liberator, for freeing the princes of their chains of captivity. It was on Diwali in 1620 that he arrived in Amritsar, hence the celebrations in Harmandir on Diwali Day, which Sikhs call Bandi Chhor Day.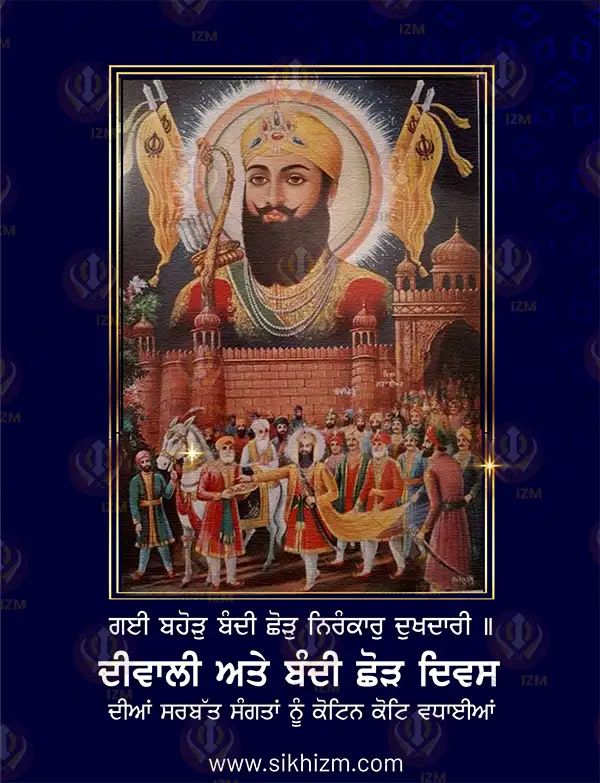 Bandi Chhor Day and Bhai Mani Singh
In October 1734 CE, just before Diwali, Bhai Mani Singh applied to Governor for permission to Sikhs to hold a fair at Amritsar on Bandi Chhor day for a tribute of 5000 Rupees. Permission was granted but the real object of the Government was to destroy the Sikhs en masse. Bhai Mani Singh had sent messages all over Punjab inviting Sikhs to collect at Harmandir Sahib. When, however, he sensed the nefarious design of the Government, he canceled the meet and asked the Sikhs not to come to Amritsar on the Bandi Chhor Day. In return, he was later arrested and Qazi pronounced the judgment that he was to be cut to pieces limb by limb. So this story tells, Bandi Chhor Divas was an Important day at that time also.
In popular Sikh Traditions, It is said that when Guru Hargobind Sahib Ji was prisoned in Gwalior Fort, he refused his freedom unless the other prisoners were freed along with him. This was done using the wit of Gurudev and to mark the event, there is a Gurudwara called Bandi Chhor in Gwalior Fort. This occasion is still celebrated as Bandi Chhor Divas on every Diwali at the Golden Temple.
बंदीछोड़ दिवस उस दिन की स्मृति में मनाया जाता है जब सिखों के छठे गुरु हरगोबिन्द साहिब ग्वालियर किले से आजाद होकर अमृतसर वापिस आए थे। इसी दिन भगवान राम 14 वर्ष का वनवास काट कर अयोध्या वापिस आए थे जो प्राचीन भारतीय परंपरा अनुसार सदियों से मनाया जाता आ रहा है।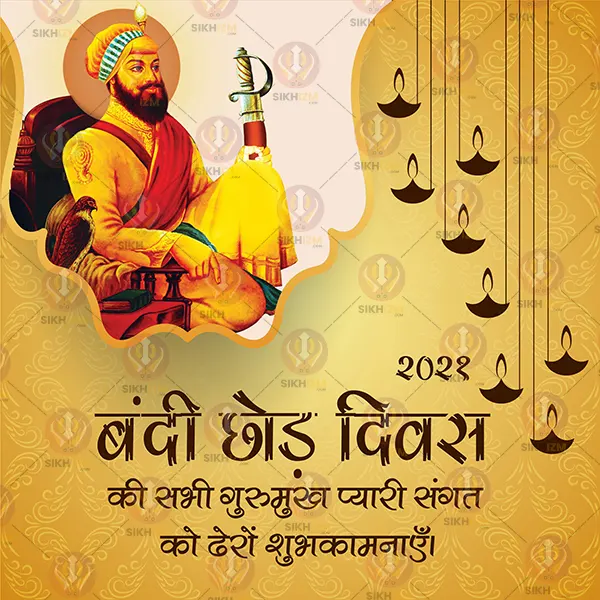 The Review
Happy Bandi Chhor Divas 2021
Bandi Chhod Divas is equivalent to Diwali for Sikhs. Like Lord Rama returned to Ayodhya on Diwali, Guru Hargobind Sahib Ji returned to Amritsar after his release from Gwalior Fort on this Day.
Review Breakdown
Creative Design

History Explained

Color Choice

Zero Spell Mistake

Ease of Download