Baba Budha Sahib Ji
Baba Budha Ji, born on the 7th of Katak Sammat 1563 (21 October 1506), holds a special place in Sikh history. His birth occurred in the village of Kathu Nangal, in the district of Amritsar. His father, Sugha (Randhava), and his mother, Gauran, were highly respected in their respective Randhave-Jatt and Sandhu-Jatt families, adhering to the social divisions of that time. Gauran was the fortunate daughter of Gaji from Bundale village of Sandhuan.
Celebrate Baba Budha Sahib Ji's Janam Divas (Birth Anniversary)
Join us in commemorating the auspicious birth anniversary of Baba Budha Sahib Ji.
Janam Dihada Date: October 23, 2023
| | |
| --- | --- |
| Image Dimensions | 1536 x 2048 pixels |
| File Size | 1.8MB |
| Format | JPEG |
Originally named 'Bura,' Baba Ji's life significantly turned in 1518 when Jagat Guru Nanak Sahib visited their village during his preaching tours. At around 12, Baba Budha Ji offered milk to Guru Nanak Sahib with great devotion. Impressed by his wisdom, Guru Ji remarked that even though he was young in age, he possessed the wisdom of an elderly person. From that day onwards, he became known as 'Buddha,' symbolizing the connection between wisdom and age, as wise individuals are recognized for their intellect rather than their years. As Shaykh Shaadi said, "ਬਜ਼ੁਰਗੀ ਬਾ-ਅਕਲ ਨ ਬਾ-ਸਾਲ"
Baba Budha Ji set an example for Sikhs by embracing Gursikhism and gaining a significant place in Guru Nanak's court. In 1604, when Guru Arjan Sahib Ji compiled the original form of Sri Guru Granth Sahib Ji, known as Pothi Sahib, Baba Budha Ji was entrusted with its maintenance. He had been serving as a Sikh sevadar since Guru Nanak Sahib Ji's time and had a deep understanding of Gurbani's essence. Baba Ji also played a crucial role in introducing Emperor Akbar to the purity and principles of Guru Nanak Sahib's Nirmal Panth when Akbar first visited Sri Goindwal.
Baba Budha Ji's significance in protecting the Pothi Sahib was twofold: his community background and expertise in martial skills made him an excellent guardian. Bhai Santokh Ji, the author of Sri Gur Pratap Suraj, described Baba Budha Ji as
ਰਿਦੈ ਬਿਚਾਰਨਿ ਸ੍ਰੀ ਗੁਰ ਕਰੈਂ । ਟਹਿਲ ਗ੍ਰਿੰਥ ਕੀ ਕੌਨ ਸੁਧਰੈ ।
ਇਹ ਸੇਵਕ ਕੀ ਵਸਤੁ ਸਦੀਵਾ । ਨਿਰਹੰਕਾਰ ਜਿਨਹੁ ਮਨ ਨੀਵਾ ॥
ਸੇਵਾ ਬਿਖੈ ਨਿਪੁੰਨ ਜੋ ਹੋਇ । ਕਰੀਅਹਿ ਇਹਾਂ ਸਥਾਪਨਿ ਸੋਇ ।
ਸ਼੍ਰੀ ਨਾਨਕ ਕੋ ਦਰਸ਼ਨ ਕੀਨ । ਅਸ ਬੁੱਢਾ ਬਿਚ ਸੇਵ ਪ੍ਰਬੀਨ ॥
Mehrum Singh Sahib Giani Kripal Singh Ji referred to Baba Budha Ji as "Bhai Sahib Budha Sahib Ji" in his book, "Sri Harmandir Sahib da Sunehari Itihas." Baba Budha Ji was initially known as Bhai Budha Sahib, similar to other respected Sikhs like Bhai Mardana and Bhai Gurdas Ji. However, as a mark of respect, as he grew older, he came to be called Babaji, and this name eventually became popular.
Baba Budha Ji was highly revered, and his association with the Gurus was remarkable. He imparted Gurmukhi education to Guru Hargobind Sahib Ji and performed the tilak ceremony for Gurus from Guru Angad Sahib Ji to Guru Hargobind Sahib Ji at their enthronement. His dedicated service at the Bauli in Goindwal, where he cared for the Sarovar, is remembered as "Ber-Baba Budha Ji."
Baba Budha Ji was a saint-soldier of the highest order. Following the martyrdom of Guru Arjan Sahib Ji, he played a crucial role in Guru Hargobind Ji's enthronement, symbolizing the fusion of Miri and Piri. He was chosen to oversee the construction of Shri Akal Takht, along with Bhai Gurdas Ji. When Guru Hargobind Ji was imprisoned in the Gwalior fort by the Mughal government, Baba Ji organized the Shabad Chowki ritual to commemorate the Gurus. These Shabadi Jathas would perform prakarms of Sri Darbar Sahib and march from Sri Amritsar to Gwalior Fort, singing shabads and effectively turning these processions into peaceful protests. This played a significant role in securing the release of the imprisoned Gurus and instilled fearlessness among the Sikh community.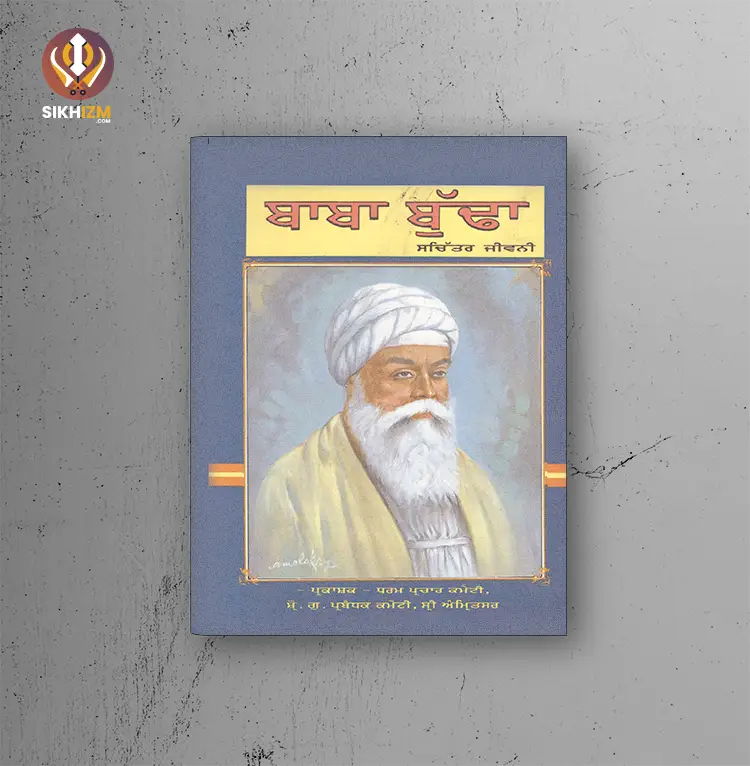 The tradition of Chowki Sahib continues to this day, and it is a testament to Baba Ji's legacy. Baba Budha Ji performed Guriyai Tilak for five Guru Sahibs, had darshan of eight Guru Sahibs, and completed his remarkable journey of 125 years, taking his last breath in the sacred presence of Sri Guru Hargobind Sahib Ji in Ramdas on 16th November 1631. His life continues to inspire philanthropic and Guru-devoted individuals in the Sikh community.
The Review
Download Baba Budha Sahib Ji Janam Dihada Image
Join us in commemorating the auspicious birth anniversary of Baba Budha Sahib Ji. Free Download the Image and Spread the love.